After work on Friday, I dragged E along with me to do some e-pic successful shopping! I've been wanting to figure out what we're going to wear for a while now, and we didn't have any plans so it worked out perfectly. We hit the Columbus Day sale at Old Navy and got E some new khakis- score for only $14.92!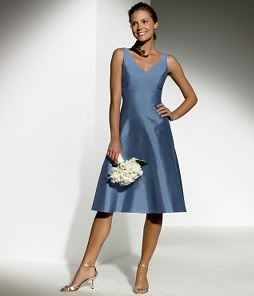 Photo from Ann Taylor.com
Then, we headed to the mall where I got the deal of the year! I went to Ann Taylor where I found the Christine Double V-Neck Dress which is a crossdye silk dupioni dress that was originally $188. I got it for less than $35 after tax!! Amazing!! It's a gorgeous dress, I know I will be able to wear it for plenty of things- showers, weddings, etc. I had a friend who used this dress as her bridesmaids' dress- see here:
Photo by Evin Photography
Photo from BananaRepublic.com
I also have been obsessed with this dress ever since I saw this amazing e-session by the ever-talented Jonathan Canlas: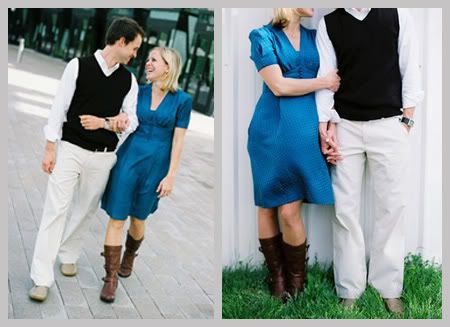 Photos by Jonathan Canlas
I had no idea it was from Banana Republic… and honestly, I usually never set foot in that store. Their clothes are so beautiful and high quality but unfortunately they usually don't fit in my budget. I'd never bought anything from them before but when I saw the dress in the sale section I knew it had to be mine! Victory!!! The perfect punch of color for our e-pics… and it's kinda in our wedding color scheme..
I love it. I'm not a boots girl though- any suggestions on shoe options with this dress? Oh and also, I'd like to inform you all that in the 2 weeks I've been doing boot camp- I have lost a whole dress size!!! I'm so proud and happy! Just wanted to share that!
THEN, I was sifting through my Google Reader on Sunday when I came across a post by Abbie over at A Glimpse of the Girl Next Door. She did a post about shoes and listed a photo of some shoes she was in love with but hadn't had any luck finding. I had seen these shoes around the internet on various blogs and I had even used them in an inspiration board I made- but I never knew who made the shoes or how to find them. Well, luckily Abbie identified these shoes in her post as the turquoise Nine West Juliarae shoe- and then I was on the hunt! I found the shoes at a bunch of different online retailers, but always in the wrong color. Then, I found them listed on Amazon.com- and they thankfully had them in a few different colors, including TURQUOISE! The ONLY size they had available in the color were a size 8- how fateful it is that 8 is just my size! The wedding gods have blessed me oh-so-greatly!!! Check them out in their fabulousness:
Overall I'm VERY happy with the successful shopping I found this weekend!
Share this post: