So I've mentioned before that the BMs are not going to be wearing matching dresses. Most likely not matching styles or colors! I've not gotten a whole lot of time to go looking for dresses for my maids but I have done some internet-searching. Each of these were pretty reasonable in the $$$ department- which, as you know, is important! And, I think they could wear any of these styles again. I know these are all made by pretty common Bridal names, but being the scatterbrain that I am I did not make note of the designers. If you know, leave me a note…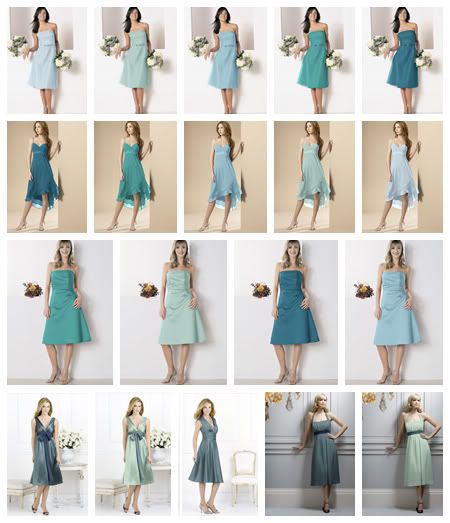 I'm really all for the girls picking what looks best on them and feeling comfortable in what they wear. I was thinking of sending each of the girls a swatch and just telling them to find a dress that matches their swatch-whatever style (as long as it's tea length). Do you think this is a good idea, or a recipe for disaster? I think it could be pretty fool proof as long as they find a dress to match their swatch…
Now on to the men- they will most likely be non-matchy as well. I've been looking for ties in teal/turquoise but not having the greatest luck so far. But that's just in my online searching. I haven't really gone to look at any dept stores or anything yet- I have a feeling the collections will be much larger in the actual stores. Anyway, here's some options I did find online… I like the idea of some of the boys wearing yellow shirts- it adds to the fun, non-matchiness.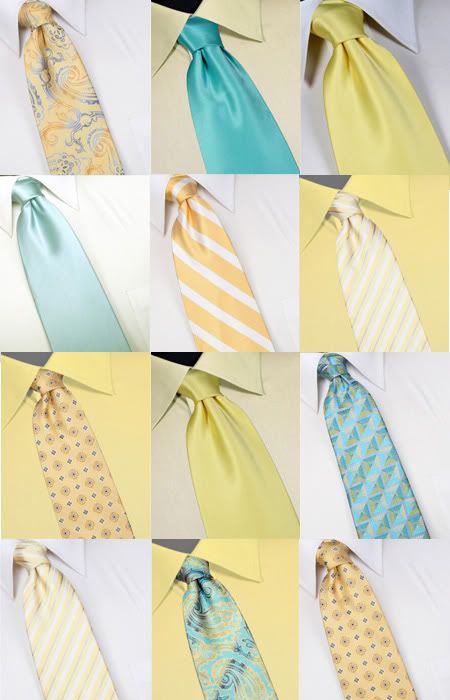 I'm kind of worried about taking the differences too far and having my bridal party look like a big, hot mess. I think it will turn out alright in the end though…
PS- I got my wedding shoes in the mail yesterday and I am SO in love!!
Share this post: