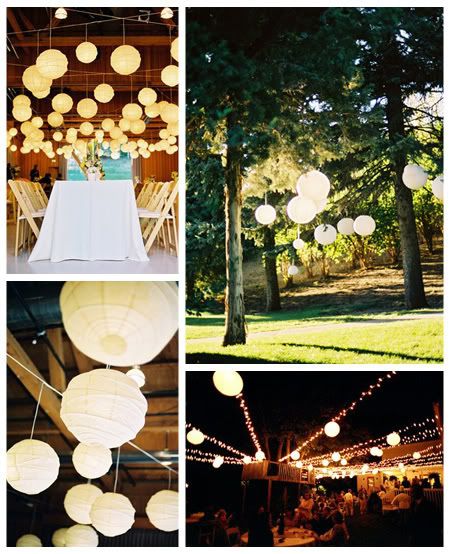 Photos by Jonathan Canlas
I love the way these strings of lanterns look as reception lighting and decoration. Our reception is going to take place outdoors so I have a feeling this might be a little challenging! I'm hoping that the trees that line either side of the open area that we will use for the dining area will be able to hold the strings of lights easily. Luckily, I have found a GREAT website called Luna Bazaar– they have paper lanterns for super cheap- I found some plain white lanterns they call "No Frills" for as low as $1.25 each! That's the cheapest I've seen so far. Now we've just got to figure out how many we need, and how to light them. Oriental Trading Company has this pack of small lanterns– a dozen 5 inch lanterns for $10! The battery operated lighting for the lanterns seem a little expensive at $4 or $5 a piece- I'm thinking I can definitely find a cheaper way to do that. They've got pre-strung options that have to plug into a wall, I think that would be our only issue- figuring out where to run power from. But either way I think Luna Bazaar was a great find!
And I think I'll definitely end up ordering SOMETHING from Oriental Trading as well… like these paper parasols! (which are currently out of stock). My wonderful BFF also went to IKEA this weekend and found some great stuff that we could use for lighting and decoration as well- all of these are GREAT places to find inexpensive but nice things to use for your reception! Anyone else have any good finds to share?
Share this post: