After getting engaged in June of this year, I have started planning out everything and meeting other brides on a daily basis. I am a full-time healthy-living blogger and fitness coach at SoreyFitness.com so I am constantly talking to brides about the best habits and little weight loss secrets to looking the best we possibly can come the big day.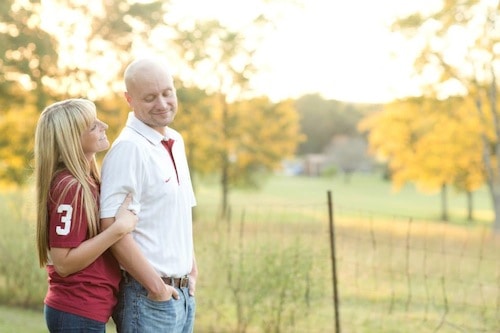 You would be surprised at how the stress and the anxiety behind making everything "perfect" can lead brides (including myself) to overthink the basics, so I've put together a few tips to help you get focused!
1. Plan the wedding you and your fiancé want.
Remember the big day, is first and foremost, something for the two of you. Yes, your family and friends will want to see you both, but they are also there to support you and your future beloved husband. Deciding what you want in a wedding ceremony and reception will help cut down on anxiety and stress, and it will make your job of planning a perfect event much easier. Not only will you be happier, your skin will thank you. When we put ourselves under stress about decisions, our skin will look haggard and even start to produce breakouts.
2. Figure out how you want to look early.
About a month after getting engaged and setting the date, I wanted to cut my hair all off. I was tired of the prep work of long hair and went in with a picture of a bob. My hair stylist just laughed. You do not want to make any drastic changes to your appearance right before the wedding, in my case that meant holding onto about 5 inches of hair I had worked so hard to grow out.
This also goes for the dress and makeup as well. While it is totally okay to have a theme in mind, you should stick to something that really represents you. If you aren't a vintage gal any other time of year, don't try to be one on your wedding day. Focus on your best features and what you would love for you– not what looks great on someone else.
3. Stick to products and procedures you know.
One of the most common messages I get from brides is when a procedure or product causes a negative effect. I'm not talking nose jobs or anything major either. Something as small as incorporating a microderm abrasion product or facial can cause a breakout or lagging skin irritation. If you want to have a spa day before the big day, focus on gentle treatments and have them done by a professional. No cheap-o deals for your wedding!
If you plan on buying a few new skin products or having your make up done, I suggest sticking to brands you know and reading the label. Many high-end products still have sodium lauryl sulfate (SLS) or parabens in them. Both are known toxins that can irritate the skin for a prolonged period of time.
Getting waxed for your wedding is no different than having a new product on your face. I highly suggest doing a test run a month or two before the wedding and also seeing a professional. I'm sure you will not mind having silky legs or a great bikini line leading up to the wedding anyways.
If you do have a bad reaction to a new product or procedure, seek out a dermatologist's help and let him or her know when the wedding date is so you can get it under control ASAP.
4. Decide your health goals and commit to a realistic routine.
Whether you have 3 weeks or 3 months until your wedding, you can look and feel healthier with small changes in your diet and workout. The main thing is to decide what your goal is. I don't really suggest going extreme for your wedding; I mean, what's the point if you lose 50lbs for the wedding and gain it right back because you were starved??
I believe setting a goal and breaking it down into weekly and daily goals. For example, if I want to lose 10lbs in 3 months, I may say that I need to lose 1-2lbs a week by working out and eating right daily. This way I know what I have to do to reach my goal.
Small, consistent changes are your friend. You don't need to spend a ton of money or spend hours in the gym. My clients workout at home for no more than a hour a day 5 or 6 days a week. They eat a balanced diet and even get either a couple of treats each week or a weekly cheat meal. I help each client figure out what workout is right for their goals, offer daily accountability, and 30 day challenges to help them reach their goals.
Leading up to your wedding is a great time to create and practice a healthy lifestyle that you can continue into your marriage. People that workout are healthier, happier, and more productive; who doesn't want that for herself or in her spouse?
5. Get enough sleep.
Sounds easy right? Between planning, showers, coordinating with relatives and friends, and the other 200 things on your wedding to-do list, sleep may fall to the bottom of the list. Don't let it.
Sleep is the bride's ultimate beauty trick. Getting 7 to 8 hours a night will help you feel and looked rested for your workouts and everything you have planned. Plus, when our bodies get enough sleep, our cortisol, the hormone responsible for belly fat, lowers and our human growth hormone production, the hormone responsible for keeping us young looking, increases. If that wasn't enough, the Sleep Journal found that people that do not get enough sleep or experience sleep with interruptions, are found to be less happy and even experience feelings of loneliness. Being a bride is one of the happiest times in a woman's life, and we shouldn't forget to take care of ourselves during the time leading up to the big day.
An extra little tip for being an even happier and beautiful bride? Take time to pamper yourself. Pampering may be different for every bride. For me, it's a tough strength workout or reading a book outside on a pretty day. Take time for you and remember your wedding will be perfect because you are marrying the love of your life.
What are your tips for being a happier and healthier bride?
Kalee Sorey is one of the creators behind SoreyFitness. Her blog and interactive fitness groups are focused on building a healthy body and balanced life. She is also getting married in June of 2014 in Tennessee.
If you need help finding your perfect workout or diet email me at [email protected] or check out SoreyFitness.com
Photography Credit: Rebecca Walker (RebeccaWalkerBlog.com)
Share this post: