Hello my lovelies! I could not be happier to share this with you today. Let's just say I'm feeling generous and you will see a sneak peak at the dress. 🙂
Today is a wonderful day because:
A: I have pics of my wedding dress (in rough form) to show you
B: I am giving away a prize to my 1,000th commenter!
AND
C: It's my friggin' 25th birthday! 🙂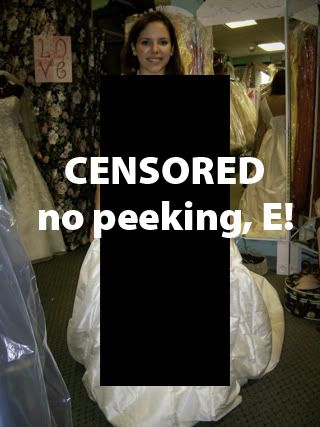 For all the pics, just click HERE

Now I dunno how often E actually reads my blog here, but to be safe, I am not going to post the pics directly on the blog. If you want to see them, you can click here to view a very short slideshow of the progress thus far. I can tell you this much: the fabric is deliciously beautiful and it looks even more fabulous in person… (my flash on my camera makes it look really shiny.) Also, the dress pretty much has no bones in it what-so-ever… it's just fabric and a liner with some seams. When I tried it on it came as a great surprise to me that I have lost a few inches since I was measured back in early December. A few… as in 8.5!!!! I have gone down 8.5 inches total between my bust, hips and waist in a little over a month and I have no idea how. I guess it's just this little thing called STRESS! Anyway, this was the first fit so it is in very rough shape right now- she had to figure out how much fabric she needed to leave for the bust area, so next time I will actually have my sweetheart neckline. She also played with the rouching around my waist and added little pickups to the skirt. I'm SOOOO excited! If you're real nice I just might share pictures from my second fitting in 3 short weeks. Y'all be on your best behavior and leave me lots of sweet comments, k? 😉
Speaking of comments, I am coming up in the numbers and will (most likely) receive my 1000th comment today! When that 1000th comment is left I'm gonna send that person a lil' somethin special- so include your email in your comments! Told ya I'm feelin' generous. 🙂
And lastly, happy birthday to me! I am a quarter-century old today- holy moly! For some reason 25 really does seem old-ish to me. When people ask me my age my mind automatically goes straight to 22. I could have been 22 forever… but I'm happy to be 25 and starting these new and hopefully best chapters of my life. I saw on my Facebook page that there are less than 100 days till our wedding. Whoa. And the venue is still up in the air. Yeeeeeah… I'll fill y'all in on all that later. For now, I'm gonna go find something decadent, fabulous and chocolatey to eat, because I deserve it. I'm thinking something worthy of a Bakerella style photo shoot. Yummmm. 🙂
From Bakerella via Flickr
Share this post: