First off, sorry this is a little late this morning folks. Photobucket was denying me access all morning… BOOO! So I'm running a little behind. Anyway this is a little off topic… not what I planned on blogging about today… but I couldn't help it. I just needed to get it off my chest…
You see, yesterday was a weird day for me. A day unlike any other I've experienced since being engaged. What made it so weird was the fact that I… forgot to wear my engagement ring! DUN DUN DUNNNNNNN!
Terrifying isn't it? I was so sad when I realized that my ring was missing from my finger. In a mad dash from my apartment to the office, I just forgot to grab it off the nightstand and slip it on before running out the door. Upon realizing my mistake, I felt sad. I felt lonely. I felt… incomplete. A part of me was definitely missing and I didn't like it. I was so relieved when I got home last night and put it back and my finger. Ahhhh…
Have any of you ever freaked out about forgetting to wear your engagement ring? I couldn't believe how weird it made me feel!
Well, since we're on the topic of rings, I thought I'd share with you a little story about mine. E & I had been talking about getting married for a while, so I decided it was okay for me to start looking at rings back before Christmas. One Saturday, me and the girls from work went and took in a movie and then did a little shopping. While shopping we just 'happened' to pass by a jewelry store, so we went in. The girls I work with are both already married, and while we were in the store, they got their rings cleaned. They encouraged me to try on rings while we were there, as they knew that eventually I would be getting engaged and said I needed to get an idea of what I liked. I tried on some rings and I really liked one in particular. It was a square shape with pave around the center stones- there were 4 square stones that made up the center diamond. I didn't think anything of it but really got excited when I tried on this ring.
When E proposed I was shocked when he gave me the exact same ring I had tried on in the jewelry store. The crazy thing is- the girls from work did NOT tell him about the ring that I had liked so much. He picked it out all by himself! One thing he did that made it special was he had the four center diamonds replaced with one larger diamond. I was so impressed that he had thought to do that himself- it makes me feel like he really took the time to think about what I would like and what he thought I deserved. Lucky for us, my ring came with a matching band that fits perfectly with my engagement ring. For months I would try on the band with my engagement ring pretty much every day… (how bad am I?!?) But I just couldn't help it- I loved putting them on together and seeing what it would be like when we are married. 🙂 Of course, being the silly girl I am- I decided that wouldn't it look SO much prettier if I had a band on each side so it would look more "even?" These silly things we do to ourselves. I suggested that E get me another band for me as his wedding gift to me. He laughed in my face when I told him of this idea… I was a sad panda.
In June, we were in Nashville for a wedding. We were bumming around the mall- picking up E's tux and such when we passed the jewelry store. There was a huge sign out front that said 30% off bridal jewelry! That was all it took, we were in the door immediately. We looked at some bands for him, and then we looked at my original band- it was on sale for nearly 40% cheaper than the original price. E whipped out his card and bought it right then and there. So that, my friends, is how I ended up having 3 rings. Here's some pics for your peruse-ment. 🙂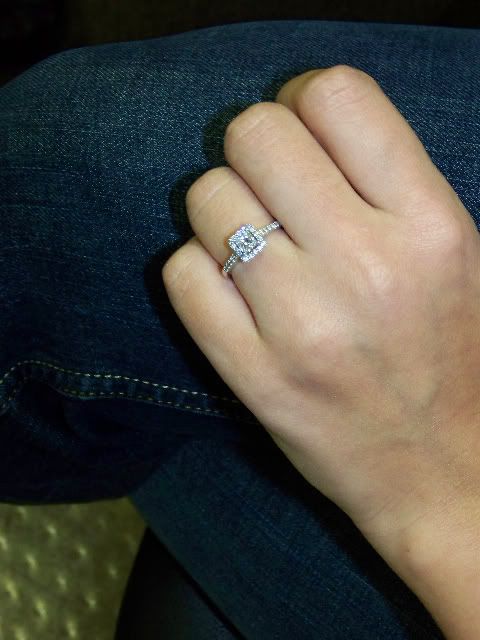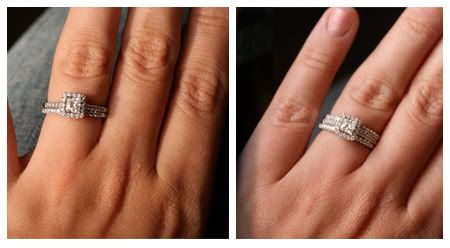 1 ring, 2 rings, 3 rings… Bwa ha ha ha
(a la The Count from Sesame Street)
Share this post: