Get ready for another self-deprecating post! Haha, just kidding. I won't be so hard on myself today because this one already has found its happy ending!! My big news you ask? I will be acne free on my wedding day!!
I remember getting my first zits at the ripe age of… 10. No lie. I was a 4th grade pizza face. I remember the summer after 5th grade my acne was so bad that my aunt who was a nurse got me some prescription only face-wash and cleanser. Nothing seemed to help. I tried creams. I tried toners. I tried antibiotics. Nothing helped my skin. High school came and it was only made worse from the hours of sweating during colorguard practice and dance class. It was on my face. It was on my back. It was on my chest. It was everywhere imaginable and it was disgusting.
What made it worse was that I was a picker… you know, one of those people who can't help but pick at the bumps on their face until they become scabs. Yeah, it wasn't pretty. I was a pretty sorry sight. I envied my friends who had flawless, porcelain skin with tiny pores and no unsightly blemishes or pustules. I somehow managed to land a boyfriend who made me feel pretty despite my problem skin. I figured everyone must go through some periods of bad skin and hoped that as I grew older it would subside. I started using ProActive and it seemed to help for a while, like everything did, but then my skin would seem to get "immune" to the product and the zits would come creeping back.
My college years weren't much better. My acne was a constant ebb and flow… it would flare up and fade over each passing semester. The worst thing about my skin was that even when it would be in a 'mild' phase, it was SOOOO OILY. I'm talking within an hour of a shower I could see myself in my reflection in the mirror- you know, like in those funhouses? Well, okay that's kind of an exaggeration, but it was SERIOUSLY GROSS. It was worst my junior year… as you can see in these oh-so-embarrassing-but-kind-of-necessary- to-get-my-point-across photos…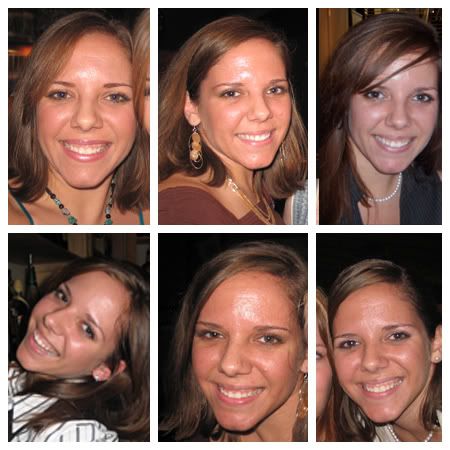 There was a point when I really didn't want to leave my apartment. I was ashamed. I felt ugly and gross and icky. All of my friends were going out to bars because we had all just turned 21, and I wanted to stay home and hide my pimply face. I even had to photoshop my Facebook photos to make myself look presentable!! No lie! I met E during this time and I can't believe that he wanted anything to do with me… I became pretty depressed about my skin and decided something must be done. I booked an appointment with a dermatologist and the only thing they would give me was some crappy antibiotics and some medicated facewash. I was frustrated when it didn't seem to help. I decided the dermatologist was a waste of money and didn't go back.
Then about 6 months ago, I had a doctor mention that I should get a mole on the back of my neck checked out by a dermatologist. I went in expecting to only talk about that, and when the derm walked into the room, she automatically started looking at my skin and asking me about it. I told her I was there for a mole, not for my acne. And she said, "Well, we'll take care of that mole, but I'm not letting you leave without talking to you more about what you can do about your skin." I told her I'd tried everything and that I was pretty much ready to give up. That's when she brought out the BIG GUNS- she prescribed me Accutane.
I've been taking the 'tane for 4 months now, and I CANNOT tell you how amazed I have been with the results. Instead of telling you, I'll show you!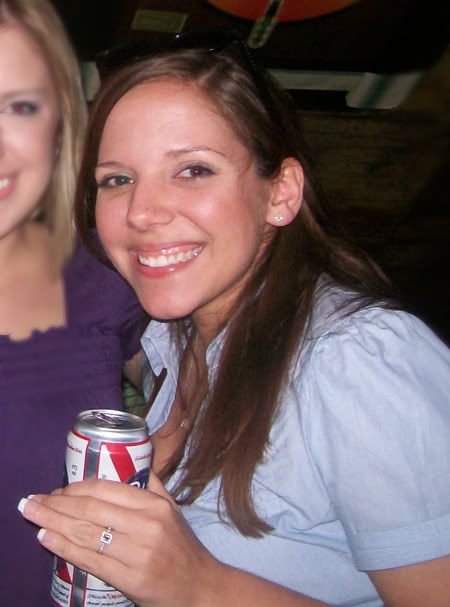 Check out that cheese! (I'm all gums… I'll probably talk about that later…) I can smile for real now because I'm not ashamed of my acne. And I was recently engaged at the time of this pic, as you can see me showing off my bling! 🙂 I love that I don't have to retouch my photos anymore! Anyway, Accutane is a serious drug and has alot of danger associated with it, but if you take it responsibly and don't get knocked up then there shouldn't be any problems. But I couldn't be happier with the results and look forward to being acne free on my wedding day! Yay for happy endings! 🙂
Has anyone else done anything drastic to change their appearance for their wedding day?
Share this post: