This post may contain affiliate links. Click here to learn more.
I came across the amazingness that is David Stark through many various blogs across the interwed. He has created some fabulous things for events of all kinds, you should really check out his website, you won't be disappointed. Anyway, there is a principal of design that basically is taking something simple and replicating it into multiples of multiples- if done in the right way, it can give a fantastic effect. David Stark is a genius and definitely a master of multiples. Check it out:
Pretty sure these are tin cans… like what your canned corn comes in. Yep, just poke some holes through and you've got yourself some pretty nice looking luminaries. This would be very low-budget if you started collecting your cans instead of recycling (I hope you are all recyclers!) it'd be like free decor!
Paper flower centerpieces! These make a big impact- and could be very affordable and easy to do yourself if you had a craft punch with a flower on it. Then just get some dowels and put together your arrangement! Fantastic!
Paper flower garlands look so chic, especially with the pretty lighting! This could also be a low-cost and easy project! Just tape the flowers to some string and hang them around your reception!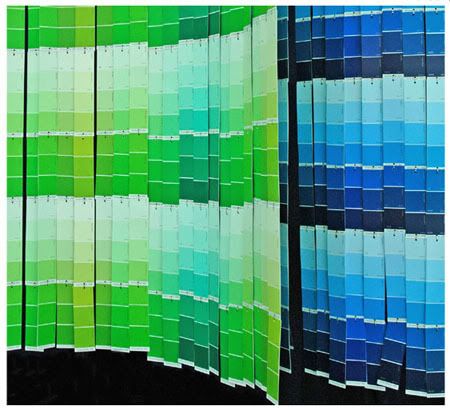 These paint chip curtains are my favorite! Can you imagine how long it would take you to gather that many paint samples from your local Home Depot
? But, it would totally be free if you could do it! I think this would look awesome in a bedroom.

Candles in mass quantities always pack a big punch. I really like the way David used candles of varying heights and I love the way they are arranged on the shelves- it's literally a wall of candles! So magical!

Another paper flower centerpiece…. I just love them!
All these photos and more of David's amazing work can be seen on his website.