I find inspiration in the most random places… it's part of being a graphic designer I guess. While E was out of town this weekend, I took it upon myself to use the opportunity to watch stupid chick flicks I knew he wouldn't want to watch. I don't know if I should admit this to the world, but I am a huge Disney fan. Not just the old school animated movies, either. I LOVE watching the Suite Life of Zack and Cody on the Disney Channel as well as a lot of their original movies, like High School Musical- I guess it's the kid in me! Well, I decided to fill my cheesy musical quota this weekend so while working away on some blogs for this week, I popped in High School Musical 2. All I've gotta say is, Vanessa Hudgens wore some of the cutest outfits seen in this Disney inspiration collage.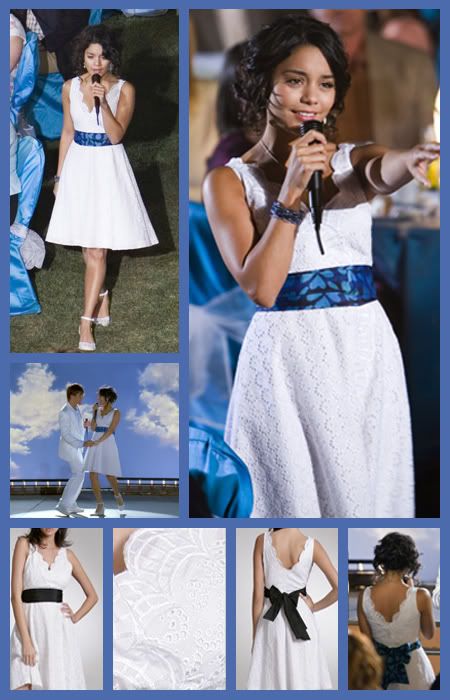 All images by Disney, except dress on bottom left which is Arden B
I particularly loved the dress she wore at the talent show when she and super cutie Zac Efron did their touching duet. Would this not make the most perfect shower or rehearsal dinner dress? Heck, if the wedding was casual enough you could even wear it for that! I scoured the web trying to find out more about this dress- apparently it is from Arden B (which I love but can't ever really afford). But to my dismay it is no longer available. Sad for Jessica. I think it is just adorable- the eyelet fabric and the scalloped edges on the neckline are so sweet. I just really like the look- perhaps I can find a wedding gown with similar features. If anyone knows where I can get this dress or something like it, please let me know! Until then I will continue to obsess over a Disney character's outfit.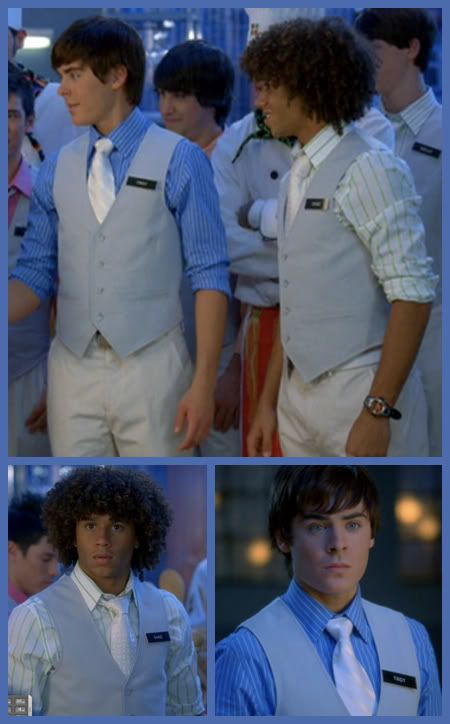 All images by Disney
And aren't the boys adorable too? I love the vest thing… I think it's precious. If all the guys wore different colored shirts or ties? I love it! Have any of you found inspiration in random places??
If any of you on a Mac are wondering how I took screencaptures of a DVD (Mac settings won't let you do it with Command-Shift-4), I downloaded a little program called SnapNDrag- it's really easy to use!
***And don't forget to stop by tomorrow, when I will be sharing budget info about

Nole's lovely wedding

that was featured on

Style Me Pretty

!***
Share this post: