So I committed the cardinal sin of budget savvy dress shopping… I tried on dresses that were out of my budget. EEK! Of course I went into the weekend thinking I needed to have the dress shopping "experience". So we went to 2 stores that had a cute boutique style atmosphere, as well as a decent selection of dresses. None of the dresses I tried on were under $700! But it was fun and I definitely figured out which styles work best on me… I seriously never thought I could wear a strapless dress, but it turns out that anything with straps really makes my shoulders look wide. And I always LOVED the sweetheart neckline but thought it would only accentuate my large chest, which I thought would make me look indecent. Boy was I wrong! All the styles I liked best on myself were strapless, with a sweetheart neckline. It really accentuates my shoulders and arms, (which will be buff and lean by the time I finish the 100 pushups challenge!) But the dresses were way over my budget. The ones I liked best were 2 from Maggie Sottero, the Grace Lynette and the Gloria. The other that I liked was from Essence of Australia's line. The Bride's Story in Murfreesboro is the only store in the state of Tennessee who carries this Australian line. Unfortunately it was way out of my price range, like the others. However, I didn't get the "This is it!" feeling from any of the gowns. I know people always say that they get the feeling when they try on "the dress" but the cynic in me makes me not really believe that. But perhaps I just didn't find the one this weekend. I don't want to order my dress for another 3 months and maybe as I shed some more weight I will feel more beautiful and more comfortable as I try on dresses. If so, I will be checking eBay and OnceWed for these styles, just in case. 🙂
You didn't think I was going to leave you without photos did you? 🙂 I aim to please… So without further ado, here are the dress styles that I tried on!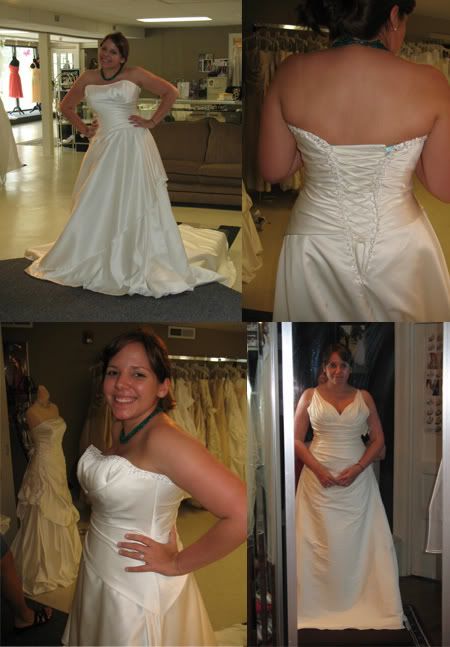 This was the first dresses I tried on. The top 2 and bottom L are the same dress. I threw in the other pic on the bottom R because I was too lazy to make another collage. 🙂 I wasn't feeling either of these. I DON'T like asymmetrical lines. Never have, never will. I like the rouching, it flatters my waistline… but the straps make my shoulders look so broad!
This is the Maggie Sottero Gloria. I tried this on at both stores I went to… I really love the neckline and the lace and beading. Wait, didn't I say I wanted simple? haha. Oh PS- check out that battle scar on the top R photo- who knew trying on wedding gowns would be so painful?!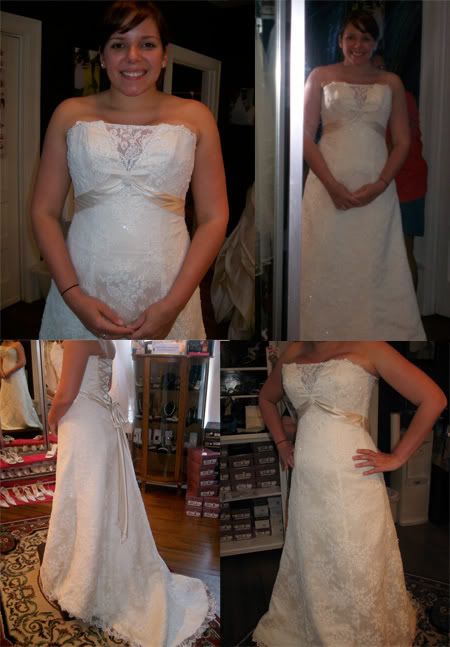 This is the Maggie Sottero Grace Lynette. My mom really liked this one. It's really similar to the Gloria, but it has a little peekaboo lace at the top and the sash that helps elongate my short waisted self. I really liked dresses that laced up for some reason! It goes with our historical wedding site in a way. I never thought I'd like something so ornate but these gowns were really beautiful!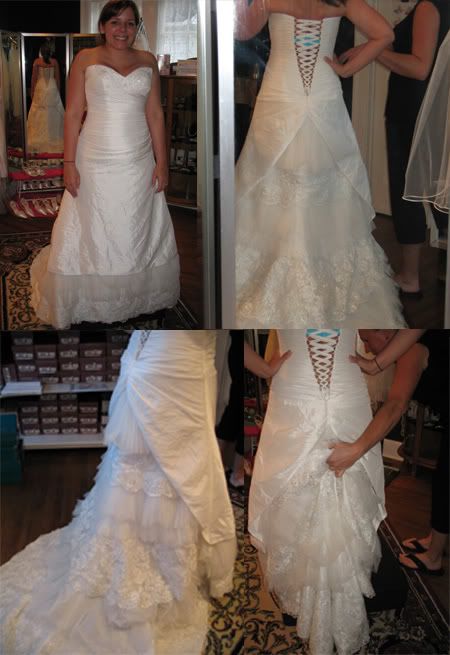 This is the last gown I tried on. It's from Essence of Australia. It had gorgeous ruffles and details on the train, and looks so pretty when it's bustled. Please excuse the bright blue bra- being the scatter brained girl I am, I forgot to bring a strapless or even nude colored bra. This gown's back panels wouldn't fit across so we had to leave them out to lace me up. I loved the taffeta the top of this dress was made of, and the rouching across my middle was flattering. I just kinda thought all the ruffles were over-the-top for me.
So there you have it. My first dress shopping experience is behind me. I am definitely still on the lookout, for a cheaper dress in the same style. Just wanted to say thanks to my BFF, S- (who was my personal photographer for the day) and my mom for coming with me and being patient with me. I had so much fun!!
Share this post: