Yay our internet is back up and running, miraculously!! It just randomly started working again over the weekend. Our wireless network is secure so I don't think anyone could have been using it so I really have no idea what was going on last week… story of my life. Now I am able to finally show you my E-pic style thoughts!
E and I booked our e-session with the wonderful Chris Scott- we are shooting our engagement photos on Oct. 19, so that gives me 3 weeks to figure out what we're gonna wear! 🙂 I want to wear something dressy for some pics and maybe more causal for others…
I couldn't find a photo of the dress online and I don't have one of me in it, maybe I'll do that later… but it looks similar to these, it's a white eyelet wrap dress with cute little capped sleeves and it's by Sangria. I bought it over a year ago and I haven't had alot of opportunities to wear it. I know it's after labor day and it's fall but I feel like I might like to wear white in our e-pics… thoughts? Is this a no-no? I was thinking I could punch it up with some brightly colored shoes and accessories…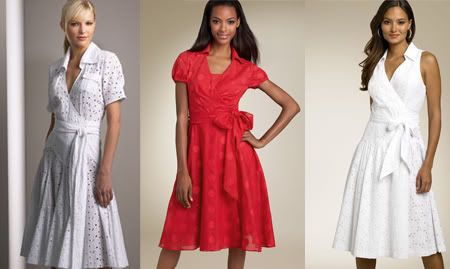 I'd also like to wear something with a good amount of color-J.Crew has a TON of amazing dresses on sale online right now. Each of these are under $100. Cute, no? Maybe the strapless ones with a little sweater… the others have cute details on their own…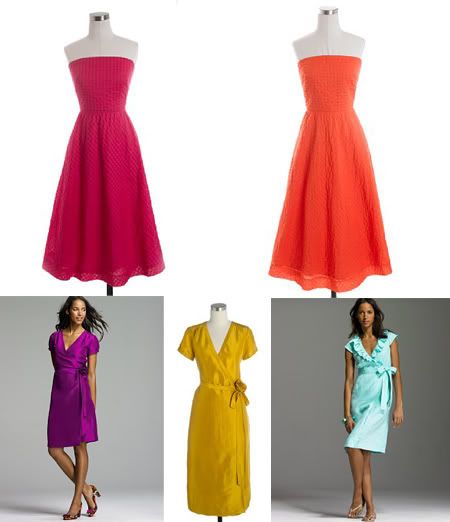 I really love the idea of wearing dresses, even though I'm a t-shirt and jeans kind of girl for the most part. I do enjoy wearing dresses and I feel like I will feel better about myself if I'm showin' some leg… y'know what I'm sayin'?! Especially since by the time we take our e-pics I will have finished my first month of boot camp- I should have some sweet legs and arms to show off! 😉 All of my regular clothes just make me feel frumpy right now, and I DON'T like frumpiness.
I'm excited to pick out some stuff for E to wear as well… more on that at a later time… 🙂 How did you decide what to wear for your e-pics?
Share this post: