So E and I went to Las Vegas this weekend for a little vacay… don't worry, we did NOT get married there! Haha. But E's brother did! We've had the trip planned for about 5 months so I was so excited to finally go! We had a great time- the wedding itself was short and they had no reception so we pretty much had the rest of the time to do as we pleased.
I've never been to Las Vegas before so I was super excited to go. One of the things I was most looking forward to is seeing the chapel where my parents tied the knot oh-so-many years ago. My parents were married in the Candlelight Wedding Chapel in Las Vegas on December 8, 1983… for those of you who didn't do the math- that's 25 years ago today!! I thought it was so cool that I was going to be in Vegas on the weekend before their anniversary. E and I went on a looooooooong walk to the address of the chapel only to find that it had been torn down just a few years ago. I was devastated! I was so looking forward to seeing where my parents got married.
I can only imagine what the next 25 years will bring for E and I, but I know that I have a good example to look to in my parents. Through thick and thin, hard times and good times, they've made it through alot together. Especially raising three crazy daughters- whew! They are renewing their vows today at our home church in Murfreesboro, which I think is so sweet. I wish I could be there, but unfortunately I can't miss any more work until Christmas. I just wanted to wish my parents a Happy 25th Anniversary. I am so proud to come from a family with parents who have made it though so much but have chosen to love and not give up on each other. I hope the next 25 years are even better!! Love you both!
For your enjoyment and their embarrassment, here's a sweet pic of my parents from back in the day! Aren't they cute? 🙂 Happy Monday!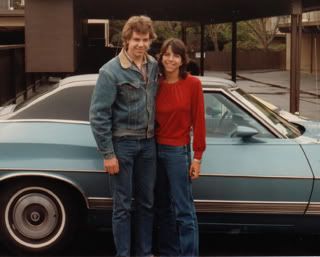 Share this post: