So I'm working with Dena Bathgate of A Special Touch in Murfreesboro on my wedding dress and my bridesmaids dresses. I went by her shop on Wednesday for my first fitting (which didn't happen- apparently there is another girl in town who is getting her dress from AST who has my exact same name… weird). While I was there, I got the sample swatches of the fabrics that my bridesmaids will be wearing for my wedding! (Minus one, one of the shades was on back order or something but it is the lightest shade of teal.) The white in the center is my wedding dress fabric!!!! 🙂 They are all dupioni silk, and while normally expensive, we are getting a great deal with Dena. I couldn't be happier!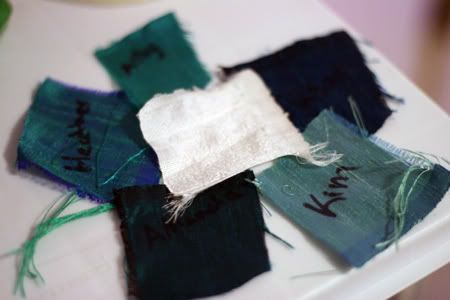 Photo by moi. 🙂
What do you think of the colors?
I allllllllllllso got to try on my wedding dress yesterday!!! So if you stop by tomorrow, I'll give you a little sneak peak! 😉 Hooray!
Share this post: