It's All About the Accessories
When you shop via links on our site, we may earn a small commission if you make a purchase.
Learn more.
My J.Crew dress is super simple. No adornments, no bling, no lace. So does that mean I was just going to be plain on my wedding day? Of course not! I love to accessorize.
Starting from my shoes (since I'm slightly obsessed), I knew I wanted a pair of  TOMS for my green wedding because of their "One for One" philosophy. A child in a third world country gets a pair of shoes for the ones I bought. I also wanted to be able to wear them after the wedding and for them to be comfortable enough in to dance in all night and not have to switch. After some research of their wedding styles, I decided to go with a colored wedge. I went to a local boutique store, which is by far my most glamorous shopping experience through this whole process (oooh, fancy), Faye's, and picked up the TOMS Savannah Wedge in Blue.
They are now discontinued but I found a few pairs are floating on eBay. The TOMS Blue Paz Wedge is now the closest comparison. Both were listed for $69 online. I picked up my shoes for $63 at Faye's. I thought they were quite reasonable since I knew I'd wear them again after the wedding. My bridesmaids will also being wearing  TOMS in Natural Canvas. With our little flower girl, that's six pairs of shoes for children in another country. (Possibly seven, Max still might get a pair to wear with his suit).
Moving on up, my garter. Even before I had the groom, I always knew one thing about my wedding. I'd be wearing a Green Bay Packers garter. Its one of those personal garments of your wedding that really speak everything about your personality and what you love. I found a perfect two garter set, one is for the garter toss and one is for my keepsake, from an Esty store called lilBittythings that specializes in custom garters. Cost for both was $29.99 with s+h.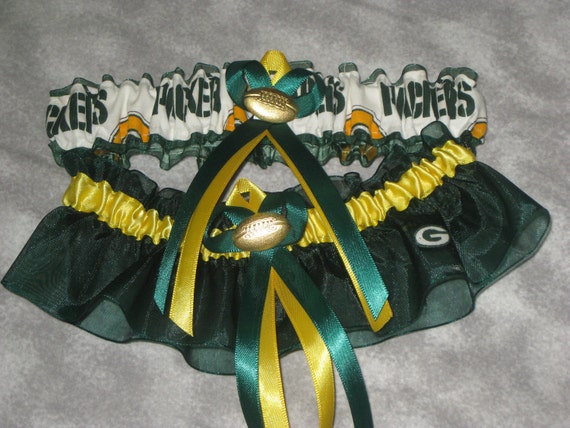 I'm a die hard fan. Most Sundays we get together with our friends and watch games, other Sundays when we are home alone, I am glued to the TV while Max cooks. Role reversal much? I can't wait to watch the guys fight over this one!
Although I have been working out and eating right, there will still be some unsightly pounds I want to smooth out the day of the wedding. I got a two in one body slimmer and bra from TC Fine Intimates in nude from Bare Necessities on sale for $57.60. I'm it will give me the sleek sexy shape I want under my A-line gown.
I also ordered lingerie for our wedding night… ooh la la! Can't pass up a good sale!
I had a crazy hard time deciding on jewelry. Did I want to do the colored jewelry? A bib necklace? Something super sparkly? I first leaned toward a blue statement necklace to go with the wedding colors but then decided against it with my already blue shoes. So my MOH Kate had been bugging me if there was anything she could help with. I let her know I was looking for jewelry and did she ever hook me up with websites! I found exactly what I was looking for at Bauble Bar. I instantly fell in love with the Gold Crystal Mix necklace.
The necklace was the perfect pop I was going to need to help my simple dress shine. It is adorned with many clustered crystals to give lots of sparkle. When I originally ordered, I bought these Icicle Drops earrings in gold (shown in rose). When then arrived they were just too much for what I was going for. They would overpower the necklace since it was a bib style and higher up on my neck. So thanks to their free shipping return policy (which they include the return sticker, bonus), I sent them back and ordered the Gold Bubble Drop earrings.
I was so happy they were a great balance to the necklace and the crystals matched perfectly. The necklace cost $44 and the earrings were $40.
Finally moving up to my beautiful head, my veil. This was another thing I hemmed and hawed about and just couldn't decide what route to take. I like the birdcage look but I didn't feel it worked super great with my flowy dress. I loved the unconventional veils from twigs and honey that I kept seeing pop up on some of my favorite wedding blogs. I was pleasantly surprised they had head adornments that pretty much fit any bride's budget. I ended up choosing the Mini Tulle Veil in ivory. It has simple styling wouldn't overpower my dress or  jewelry, a birdcage feel, but still gives a flyaway effect and I just couldn't beat the price at $40.
Personally, I couldn't be happier with what accessories I found.
Green Measures Taken:
TOMS support a great cause helping children in third world countries
Current Budget Breakdown
Total Budget $10,000
 Item
 Cost
 Venue for Ceremony and Reception
 $1200
 Photography – Complete
 $600
 DJ & LED Lighting
 $500
 Invites & Stationary – Website
 $135
 Invites & Stationary – Save The Dates
 $3
 Bridal Gown & Accessories
 $403
 Total Budget Left
 $7159
What was your favorite accessory from your wedding? I think mine has to be my necklace. I feel so glam when I put it on.
*Images from eBay, lilBittythings, Bare Necessities, Bauble Bar and twigs and honey