Image from Martha Stewart
If you don't already, you should subscribe to the Martha Stewart Daily Craft email list- I get neat little projects sent to my inbox every day. Martha is a wealth of information, inspiration and fun for any DIY bride. Friday, the daily project was these Paper Lantern 'topiaries'- how awesome are these things? They could really add a lot of extra light to a reception- how COOL would these things look framing off your dining area? I love them! Here's the directions from Martha!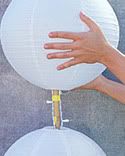 Image from Martha Stewart

"Geometric "topiaries" inspired by the paper sculptures of Isamu Noguchi stand on both sides of this swimming pool. A few white plastic beach balls tied to weighted lines float in the pool like pearls cut loose from a giant strand (for safety, never cover the surface of a pool with a large number of balls).   Light Columns How-To 1. Purchase a bamboo stick or dowel that's 6 feet long and 1 inch in diameter. Drive the pole deep into the ground until it's solidly anchored. Run a 50-bulb string of lights up one side of the pole and down the other, securing it with masking tape.   2. Stack Paper Lanterns (ours were 14 inches in diameter) over the stick. Secure the lanterns to each other with tape. Note: If you intend to place these fixtures by a swimming pool, it is imperative that you plug the lights into GFCI outlets and use extension cords approved for outdoor use."  

Has anyone tried this? I'm seriously thinking about it!
Share this post: