So this weekend my lovely sister K came with me to try on some dresses. Last week, I received one of the many spam emails I receive each week from David's Bridal, but this one was advertising their $99 gown sale. $99 for a wedding dress? Too good to be true. Gotta be absolute crap quality, right? Well, we waited until Sunday for more dress shopping because the other stores I would have wanted to go to were closed on Sundays. So, that left me no choice but to suck it up and begrudgingly wander into DB. I mean, what could it hurt? If I found a dress for $99, that would free up a lot of money for something else…
I'm not going to lie, it wasn't the worst experience ever. I actually liked a couple of the dresses I tried on, but I didn't get 'that feeling' that everyone talks about- not that I expected to at David's Bridal! I am starting to think that the whole "This is the one" feeling is a load of crap. Maybe it's just the pessimist in me… ANYWAY- I tried on 6 dresses before our assigned 'bridal consultant' disappeared. She had pretty much lost interest in helping me once I mentioned my low-end budget and the fact that I wasn't planning on buying today. Now, I don't know if these girls work on commission but all I can say is it was RUDE, and I felt unimportant. After 20 minutes of standing around waiting for her to bring me another dress that I had pointed out in the catalogue, I got fed up and we left. So the end was definitely LAME. But I still have some pics to share that K took for me so let me know what you think! I'll start with the higher priced and work our way down, just for kicks.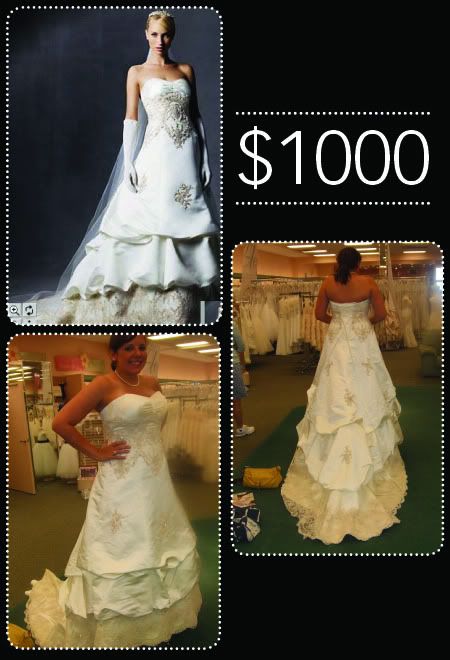 Okay, personally, I would NEVER pay $1000 for a dress from DB. I'd rather buy one of the Maggie's I tried on if I was gonna spend that kind of money! But that's just me.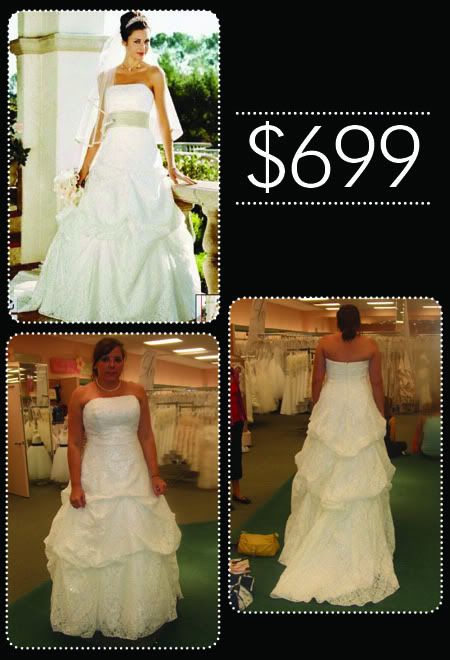 I'm not gonna lie, I kinda liked this one a little. It is pretty light weight, which is nice, but it has a full poofy skirt. It was kinda fun to wear, but I kept getting snagged on the train and stepping on the front of the dress. I know that tailoring the dress will change that but I don't know if I want something that big…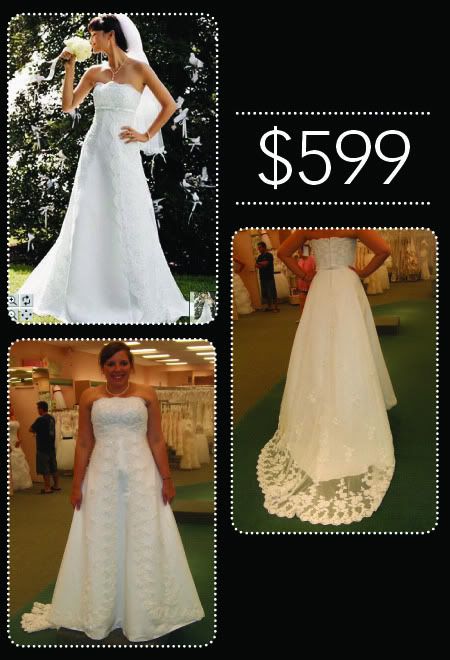 I kinda liked this one too. I tried it on without the sash, but it was flattering to my waistline- made me look skinny. It's got some of the lace detailing that I like, but it wasn't too much. Just in comparison with the Maggie's I tried on, you can tell a BIG difference in the quality of the lace, but it still looked pretty.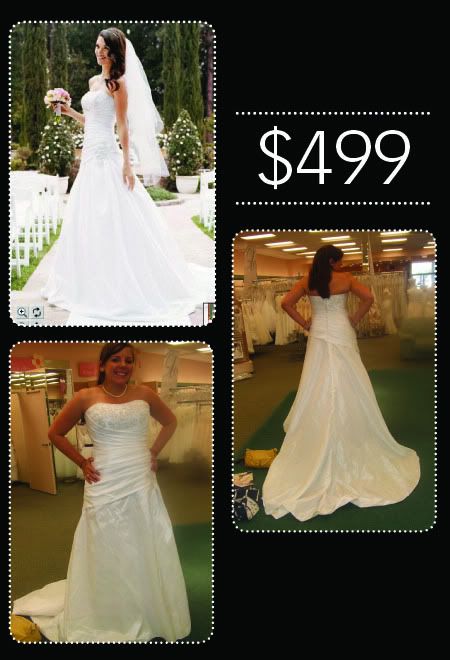 This is little sister K's favorite- she picked it out for me to try it on. This may sound weird but, I'm not all about the beading on the top or the broach thing on the left side. With the beading, I'm one extreme or the other. I either want it everywhere or nowhere. So I wasn't feeling it so much. I felt like I'd like it better if it was plain…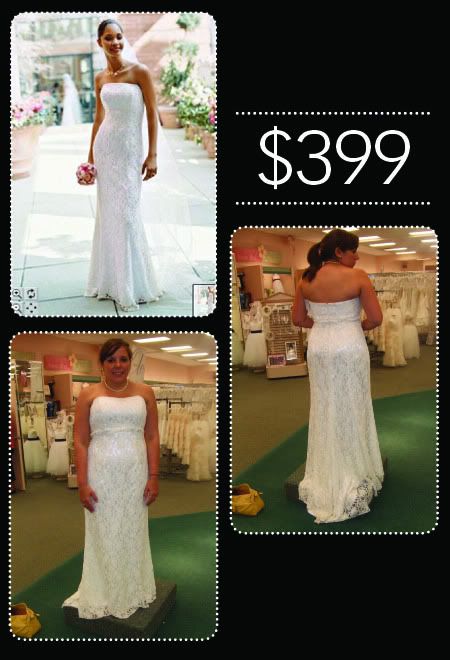 This dress did NOT fit me right and I was not a fan- as you can probably tell by the oh-so-happy face I'm making. It's meant for someone taller and more slender. But I wasn't mad about it. The lace seemed a little cheap… but you obviously get what you pay for.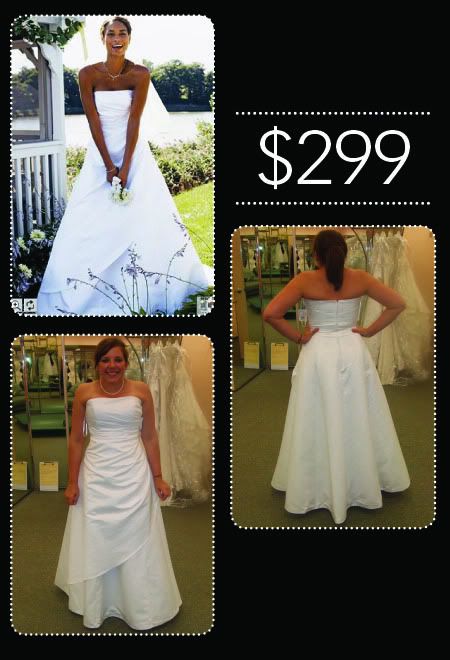 Believe it or not, this was kind of my favorite. It's simple, slimming, and CHEAP. I kinda liked that it didn't have a train, too, because all the other ones really got on my nerves when I wore them. My sis thought that this looked like a base dress that wasn't finished, like it was waiting for some beading or special details to be added. But I kinda liked the simpleness of it, it's uncomplicated. I think I would add some buttons along the zipper to make it look a little more classy, but that would be pretty easy.
So there ya have it. The prices of all these dresses aren't even the final price- right now DB is running a sale for $50-$300 off ALL of their dresses. So these dresses are actually cheaper than what the pics say. I dunno, it's something to think about… I've still got time. Any thoughts?
Share this post: