Friday I met with the adorable and funny Amy Lynn Larwig for a makeup trial. Amy Lynn stumbled across my blog one day and left me a comment referring me to Dena at A Special Touch for custom wedding dresses right in my home town! I am so glad she did because now obviously I'm using Dena for my wedding dress, the bridesmaids dresses, AND I talked to her yesterday and she's going to make ties for the groomsmen, too! So thanks, Amy Lynn for the tip! 😉
Anyway, after receiving Amy Lynn's message, I went to her website to discover she is an ultra-talented make up artist! Check out her work here! We later discovered that we had quite a few mutual friends in the wedding industry- including my photographers Chris & Adrienne – (she did Adrienne's makeup for their wedding in December!) Such a small world! I am thrilled to have such a talented new friend ! Check out how she 'glammed me up' on Friday night for my makeup trial.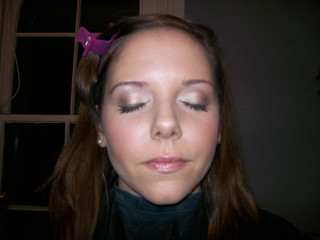 Amy Lynn showed up with quite the beauty arsenal. She had a HUGE rolling crate with all kinds of makeup and hair products. Before we started she asked me questions about my wedding- the theme, the colors, the style of my dress, etc. She wanted to get a feel for my style and what would look good for me. She started with primer and used some powder that I'm pretty sure must be magic because it made my undereye circles disappear! She also did lots of 'facial contouring' which made me look like I actually have good cheekbones! It puts highlights on the places we need it and gives your face a better shape. I loved the results! I also love how big my eyes look! I'm pretty sure I'm going to wear false eyelashes on my big day for that extra pop- so that will only enhance my look. We played around with my hair too but the pictures didn't really turn out. So whaddaya think?
Here's a pic of me and E on Friday night when we went out. I think my makeup trial held up pretty well!
Amy Lynn is SUPER fun and fabulous and does a fantastic job. If you're in the Nashville area and are looking for a makeup artist for any occasion, contact her because she's awesome! She's also a blogger which makes me love her even more. You can find her here. 🙂
Share this post: