So I didn't really do any blogging during the actual show yesterday! 🙂 I was too excited to watch Miss Martha Stewart!! It was SO MUCH FUN!!! Here's a quick recap of my trip:
I got into NYC at 8pm on Tuesday and my aunt picked me up from the airport. (My mom grew up on Long Island and most of my extended family still lives there.) It was so great to see my aunt- I haven't really gotten to see her since February! So we got into Manhattan and went to my hotel. My grandpa and grandma have a good friend who is the manager of a great hotel in the city, so he put in a call and I got to stay in a fantastic room for completely free! Being the nerd I am, I was so excited about this cute little hotel room so I took some pics- I don't really care if ya wanna see them or not, I'm postin' em! 🙂
The HUUUUUUGE and comfy king sized bed was the best part! Although I have to admit, I was SO excited about the show and being in the city that I could barely sleep! 🙂 I also had a sweet little card with CHOCOLATES waiting for me from the manager- I felt like I was kind-of-a-big-deal. 🙂
After I put my stuff down, my aunt and I went to Planet Sushi where we had a delicious dinner! So yummy. My aunt had to drive back out to Long Island, so we said goodbye and I went to bed!
Soooo then I woke up bright and early, got ready and took the subway down to Martha's Studio. Riding the subway reminded me of my internship summer when I worked at Condé Nast… ahhhh the fond memories!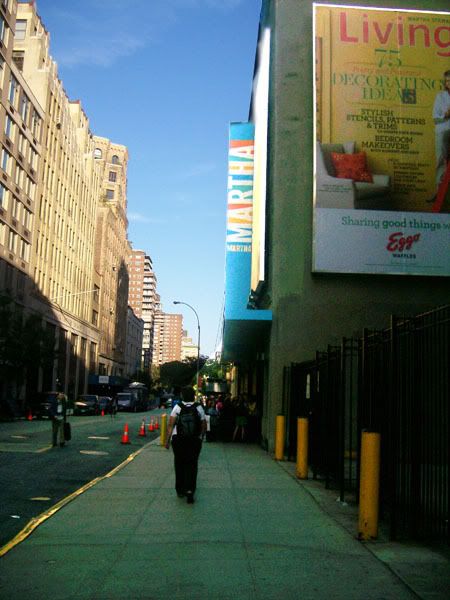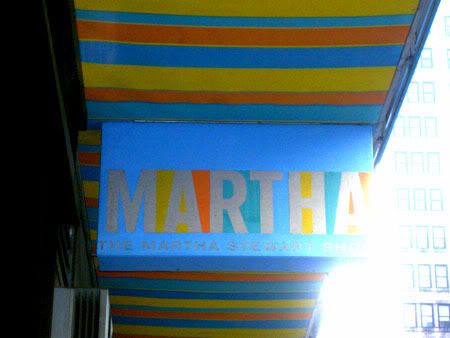 Anyway, so we got to the studio at 7:50 and there was already a decent sized line at the door! The first person I saw that I recognized in line was Miss Candy Corn from Weddingbee! Is it weird that I feel like I know these girls? I didn't say hi because I was too nervous I would look like a stalker… Around 8:30, they let us in and gave us our tickets. They separated the 'laptop' people from the 'non-laptop' people in the audience. We waited in the lobby area for a while and the 'warm-up guy' came out to get the crowd pumped up! He was really funny and super nice- I talked to him after the show. And THEN, they finally let us in the studio to sit down. I was SO excited when I saw all the lights and her set was just SO cool!
I ended up sitting next to Mrs. Snow Pea from Weddingbee! She was SUPER nice and adorable and we were talking about how cute Martha was in person. Also on our row with us was Mrs. Toucan and Mrs. Tulip! I swear I felt like a stalker being like 'hey I know you!' But it was kinda cool in a way I guess! It wasn't a mutual thing obviously, I've just got this little blog here to myself and I highly doubt anyone would recognize me on the street because of it, haha!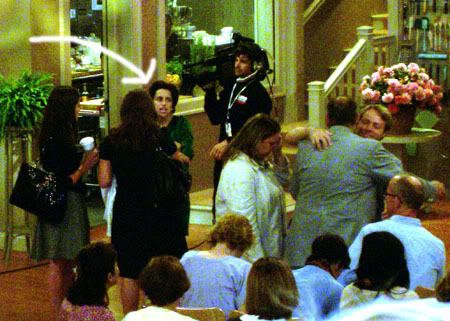 Don't you love my drawn on arrow a la Perez Hilton?! 🙂 It was so cool to see Darcy Miller from Martha's Wedding Blog!! She's so fabulous and I love her ideas! I tried to take a pic of her, but my zoom is nothing to be proud about: It was SO cute before the show she ran over to ask if she could have her picture taken with Mrs. Bee! I thought it was funny, but so sweet! Martha gave brand new Canon Powershot G9's to the editors of her 4 mags- for a second I kinda wondered if the audience were all getting one, but alas, it was just for the editors. But it's all good because we got some cute stuff!
I was also so excited to see the girl from Cute Overload at the show!! Although I was surprised those silly words and captions came out of her mind… she seemed so normal… haha. My boss is ADDICTED to CO and uses it as a 'break' from work pretty much every day! They gave everyone in the audience a 365 day calendar of photos from the site! I'm totally giving it to my boss so we can have it in the office… hehe. I can't lie, I've spent a few hours perusing the 'impossibly cute' blog myself! I tried to submit a pic of Steve Perry at some point, but it never got posted or anything. *Sigh* I still think Steve Perry is mighty cute. I will include a picture of him just for funsies. 🙂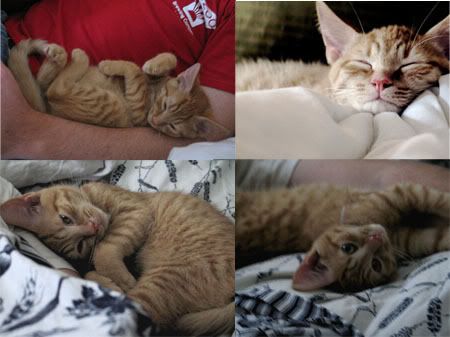 Okay, back to the show: I was SO excited to see Perez Hilton! The first thing I thought when I saw him was 'DAYUM, he's lost some weight! Lookin' good Perez!' I have to admit I have quite an addiction to celebrity gossip and I've been reading Perez for years! He had some good advice about starting a blog and how to make it successful. I wish I could have gotten a picture of P-nasty but we were only allowed to have our cameras out at certain times…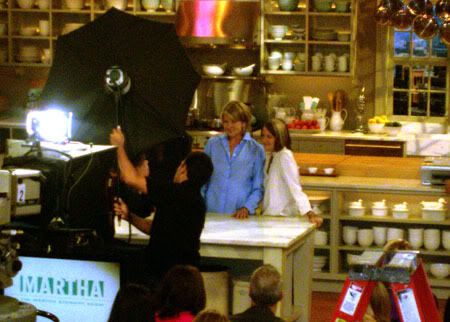 The other guest bloggers included a food blogger, a garden blogger, and political bloggers. I didn't know them as well so I kinda zoned out. I was too excited about what else was coming! And it probably didn't help that I was coming down from the caffeine in my triple shot vanilla latte that morning. Martha was such a pro at posing for the camera- she knew exactly where to place her hands, which way to stand, and which cheek to turn towards the camera- it was so cute to watch! The 'warm up guy' had told us that we were going to be getting some sweet SWAG so I knew something big was coming! At the end of the show Martha gave us all vouchers for FREE wireless printer/copier/fax things! I am SO excited to mail that thing in and get it ! I have been needing a new printer since I gave mine to my sister, K because she didn't have one for her dorm room. 🙂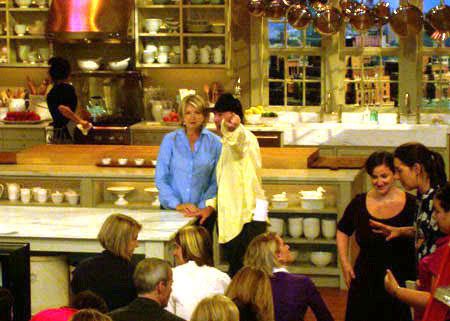 I could swear they were pointing and looking right at me… whoa! haha
I will have to finish this post later tonight because my lunch break is over and I have to head back to work!! More later!!! PS- I am totally bummed because my DVR did NOT tape the episode. 🙁 Sad Jessica!
************
Okay, I'm back. So, after the regular show was wrapped, Martha recorded a message for the Armed Forces. Then, she tasted what had to be like 100 hotdogs to try to find the best ones! It was so funny to hear her reactions to each hot dog! When I told E about this hotdog extravaganza he was SO jealous! But I told him not to be too mad, since we didn't get to try any of them ourselves! My stomach was GROWLING at this point and I was achin' for a hotdog! 🙂 Martha said that she was a big fan of King's Papaya so I figured why not check it out? YUMMY!
After the show was over we got our free gifts and voucher for our printers and headed out. when I walked outside the whole Weddingbee clan was hanging out outside the door. I was suuuuuper intimidated but I shyly introduced myself to the famous Mrs. Bee and told her how much I loooooooove the Weddingbee. (Like everyone doesn't say that- jeez…. I'm so lame.) Then we had to get on our way. I knew Kleinfeld Bridal from Say Yes to The Dress was in the neighborhood so I wanted to stop by and take a look! 🙂 Look at their gorgeous window display! Unfortunately I couldn't look at any gowns (not that I could afford anything there anyway) because they were doing some work around the store to prepare for their (hopefully) 3rd Season. It was neat to see the store though, it was really nice!
So we didn't have much time after we went by Kleinfeld so we had to jump back on the subway, swing by and get a hotdog with sauerkraut and mustard and it was DELICIOUS. I totally did not want to leave NYC, but after my hotdog I went back to the hotel to pick up my luggage and then to Penn Station to catch a taxi back to the airport. *Sigh*
It was a great trip but I have to admit it was exhausting. It was really hard to get through work today- I could barely keep my head up! I was in the city for less than 18 hours and it just wasn't enough for me! It really was a whirlwind and I spent almost as much time in airports and planes than I did in the city, but I know I'll be back…
So that was the rest of my trip… thanks for listening to my ramblings. Regular posting will resume tomorrow! 🙂
*****
PS- Thanks Miss Purple for the link to the video! For anyone who wants to see me, I am at about :50 in the video, wearing a dark pink/red dress and I do the NERDIEST little wave ever. Ugh… what was I thinking?! Check it out, you'll get a kick out of it… haha! And go read Martha's Blog! Because she's just so adorable!
Share this post: