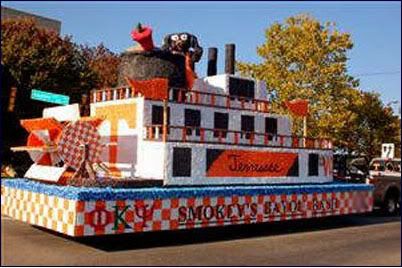 A typical homecoming float at my alma mater- pretty elaborate, huh?
This wasn't one that my chapter did, I couldn't find any pics on my computer… so this'll have to do.
I went to college in the south where Greek life is kind-of-a-big-deal. I was an active member for 2 1/2 years before my intense art class schedule kicked in and I didn't have the time to devote to the required activities. But, I will say that one of my favorite (and at the same time, most dreaded) parts of being a member was Homecoming. All our girls put in hours upon hours of time on HUGE projects- the biggest of all being a monster float that we had to instruct along with our assigned fraternity partners. WELL- the things we used to decorate these floats were called POMPS. Pomps are pre-cut square tissue paper pieces that we folded, rolled, and stuffed through chicken wire to make our masterpiece floats. So it kinda hit me the other day that these pomps that we used were the perfect thing to use to make some pomanders for our ceremony decor!
Share this post: