So, this last weekend E & I attended a Southern wedding of two of his very dear friends. They had a beautiful wedding in the groom's family's backyard in Brentwood, TN. I just wanted to share some pics I took! The wedding was intimate and casual- it was absolutely lovely! Enjoy the pics!
The lovely setting!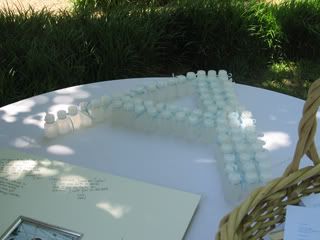 The bubbles that a friend and I arranged in the couple's last initial!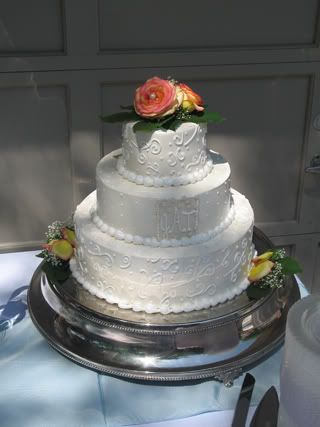 The cake! Not only was it beautiful, it was PHENOMENAL. Probably the best cake I've ever eaten! Each layer was split into two flavors! The bottom half was a rich chocolate fudge and the top was an amaretto/vanilla-ish flavor. Can't be sure… but it was scrumptious!!!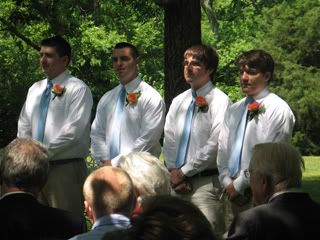 The handsome groomsman!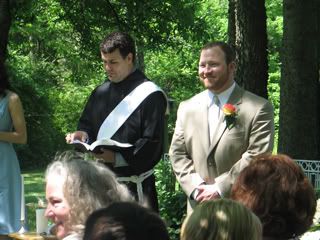 The handsome groom! I love the smile when he first sees his bride! Just like the guy in 27 Dresses, that is my ABSOLUTE favorite part of weddings!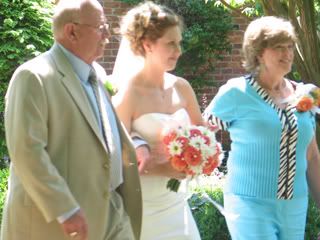 The bride was escorted by both of her parents! I thought this was really sweet!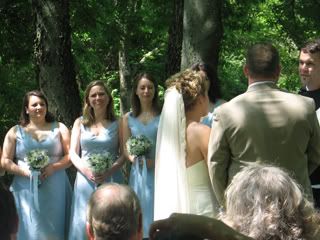 Here you can see the bridesmaid's dresses.Lovely blue cocktail-length frocks from the always-classy Ann Taylor.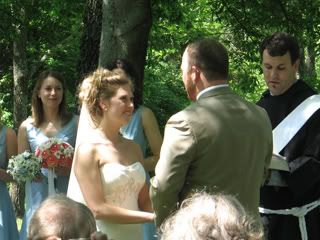 Exchanging the vows. The preacher who married them had known them most of their lives, and even told the stories of how T & J met in elementary school! So cute!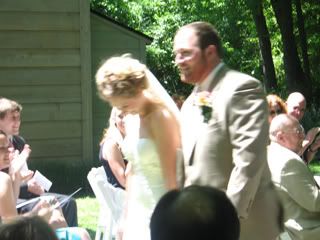 Walking out as husband and wife…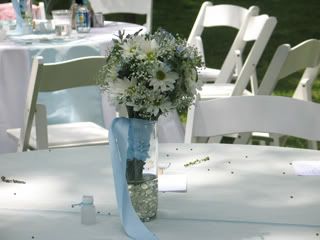 The BM bouquets doubled as centerpieces! What a great money-saving idea! I'm going to have to remember this…
The beautiful couple!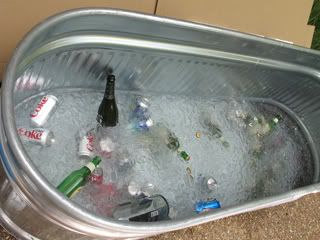 The remnants of the reception!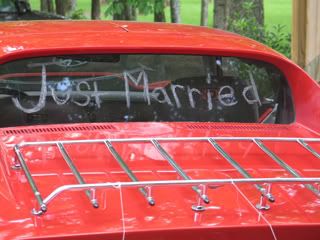 The Getaway car! Super nice old car borrowed from a family member I think. Another cost-saving option!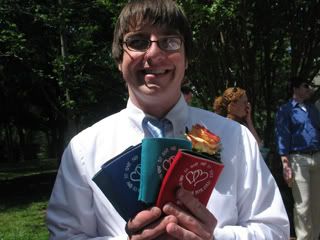 Their wedding favors were KOOZIES! How can you not love that?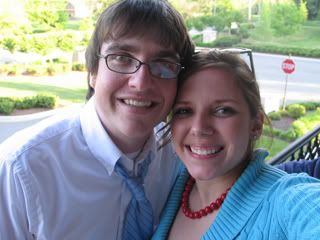 E & I at the after party. 🙂
It was an absolutely PERFECT day. Perfect weather. Delicious food- Whitt's BBQ!!! You just can't go wrong with barbecue, especially for a Southern wedding. I mean, everyone loves it & it's not that expensive
– so you could afford to feed alot of people a good meal for a reasonable price!
We are so happy for T & J. They are two of the sweetest people I've ever met and I was so glad to be a part of their special day, even in a small way. 🙂
Share this post: