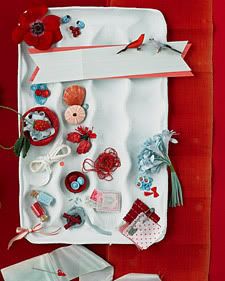 Martha Stewart Weddings
Okay, so- ever since I saw that Martha Stewart Weddings mag with red and aqua color scheme- I have been OBSESSED. It's modern, but has sort of a vintage feel to it if it's done right- ya know what I mean? AND it's great because it incorporates BLUE, because as I've said earlier I want to wear blue shoes as my something blue!
I've always loved the idea of having a solid red bouquet, just because it seems so old school romantic. 🙂 If I use red, I don't want it to be the main color, but mostly as accent. But sometimes I tend to get these pictures in my head and it gets a little too matchy-matchy… I can just really take things too far and over-do it sometimes- (in my design work, in my wardrobe, in my decorating, etc.) I think I need to learn some restraint. So like I said, to do this color scheme well, I think I would need some help keeping me from totally overdoing it. Anyway, without further ado, here is my red and aqua inspiration board! (Will post links later, gotta get to work!!!) Happy Tuesday!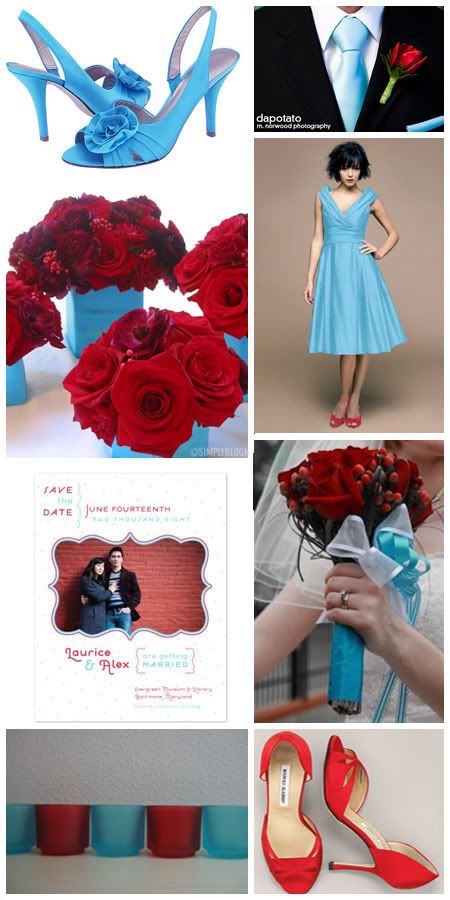 Share this post: