Say Yes to the eBay Dress?
This post may contain affiliate links. Click here to learn more.
How many of you just freaked out when you read eBay and thought "Wedding dress from eBay… is she insane?!"
Let's start the story from the beginning… I always knew I was not a big poofy ballgown type of girl. The more I saw crinoline, the more I wanted to barf. It's so not me. I also knew, I'm enough of a traditionalist that I still wanted a white or off-white dress. That being said, I started looking.
I was drawn to more ready-made styles and then found the J.Crew wedding collection and fell in love. Most of the styles were very simple but stylish and had a hint of classic beauty that would never go out of style. Just what I was looking for.
After quite the debate between a few gowns, I decided on their Whitney gown. An ivory, strapless A-line gown with a slight sweetheart neckline. It is made of silk with a chiffon overlay. There is a sash that is attached to the bust that free flows away from the body. A small ruffle goes around the natural waist to give definition.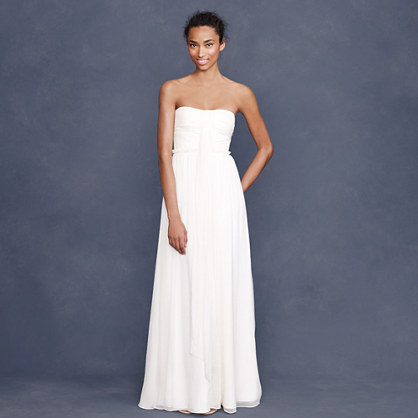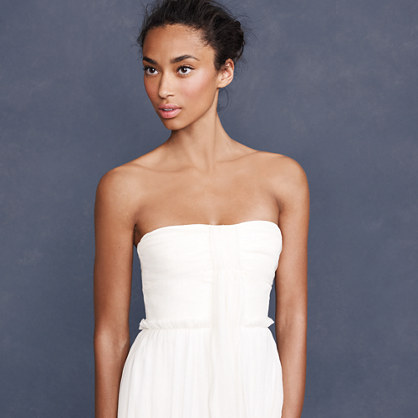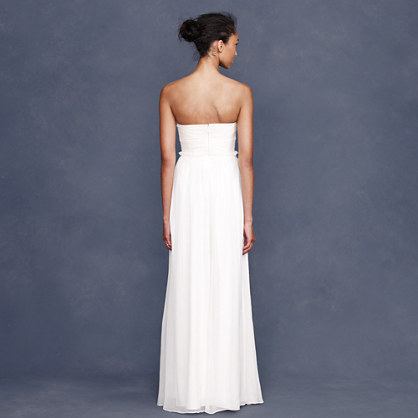 From J.Crew, the Whitney gown was $425. They recently dropped the price to $249 (and as I'm writing this its now $199). So it was a deal to begin with. I had a feeling since it was a ready-made style, I could find an even better deal if I just shopped around.
I first used J.Crew's online consultant to figure out my size. The sales person said all their wedding styles are the same as their normal clothes. No "wedding" sizes here! That being said, I headed to my local store with my mom and tried on a few strapless styles to get the right fit.
Then I checked all the reused bridal websites I could find (recycledbride.com, oncewed.com, preownedweddingdresses.com and a few others). No luck.
Then I just wondered… what about eBay?! They are always selling new or slightly used items. Perfect for my budget and my green wedding! I found one eBay wedding dress store The Peppermint Palm that carried a ton of J.Crew wedding gowns and bridesmaids dresses. I found my Whitney gown new with tags and they were asking $169.99 with a "Make An Offer" option. Don't mind if I do! I put in an offer of $120. It was a long shot but hey I still could buy it outright if they do not accept it. They did! With taxes and shipping the total cost of the dress was $127.64!
The gown showed up in a couple of days and it looked so gorgeous on! I started crying. I won't even have to have it altered because its the perfect length. I will have to have it pressed before the big day since it got a little wrinkled in the shipping process. Overall, I couldn't be happier!
Green measures taken:
1. Bought overstock, will not go in landfill.
Current Budget Breakdown
Total Budget $10,000
Item
Cost
Venue for Ceremony and Reception
$1200
Photography – Complete
$600
DJ & LED Lighting
$500
Bridal Gown & Accessories
$128
Total Budget Left
$7572
*photos courtesy of J.Crew.com
---
Favorite Wedding Dresses from BHLDN

---
Editor's note: Due to the pandemic, some of the general wedding planning advice we share may not be applicable or possible due to restrictions on events. Please adhere to all current regulations and stay safe and healthy! Get more pandemic wedding resources here.