I'm it. Blog tagged by Laura over at style-for-style.
The rules for blog tagged posts are to list 6 things you value and 6 things you don't and then pass this on to 6 people!
6 things I value are:
1. My darling fiancé, E.
2. Weekends with no plans
3. Spending time with my grandparents. They are my favorite people EVER.
4. Reading a good book, because I rarely have the time.
5. Getting a good night's sleep. (Which is why I'm in bed by 10 every night.)
6. Really great food and
wine
.6 things I
don't
value are:
1. Traffic and idiotic drivers.
2. Beef jerky.
3. Credit cards.
4. Lying, deceiving, dishonesty, keeping secrets.
5. People who don't respect themselves or others.
6. Waking at the crack of dawn.
In other exciting news, I received this in the mail yesterday: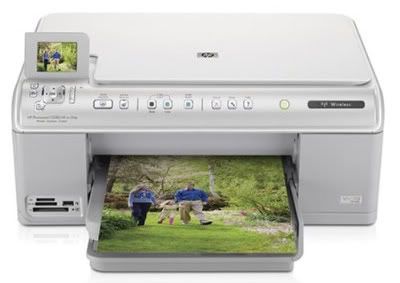 Photo from Amazon.com
My free Wireless HP Photosmart C6380! Word up! It's a pretty fancy piece of machinery from what I can tell so far. I successfully got it up and running without too much trouble (a big plus, since I get frustrated with electronics very easily). I decided to try printing out a photo with the free sample photo paper they gave me and WOW! It turned out fantastic! I printed that first pic of me & E from yesterday's post and it looked just like if I had taken the files to Walgreen's or something so that's a plus! And it was super fast and pretty quiet so overall I'm happy with that test run. I've been that person who takes 1000s of digital photos and never pays to get them printed, but now I can do it right at home! Apparently, this printer is supposed to be really inexpensive as far as ink is concerned as well so I give it two thumbs up! I've gotta say, I feel really darn lucky. Just this year, I've won a new laptop and now a new printer… It's a real blessing! Thanks Martha and HP for this great gift- I'm so excited to start using it more!
Still waiting on the E-pics. Hopefully soon! No pressure or anything, Chris!!! 🙂 I'm so excited!! Hopefully I'll have them to share next week! E keeps asking me about them, too. It's so cute. Speaking of E, we just passed our 3 year mark- 3 years ago on Monday was when we first met and started dating. It seems like forever ago… for a little blast from the past- I just want to share with you a pic of us from when we first met- it's crazy!!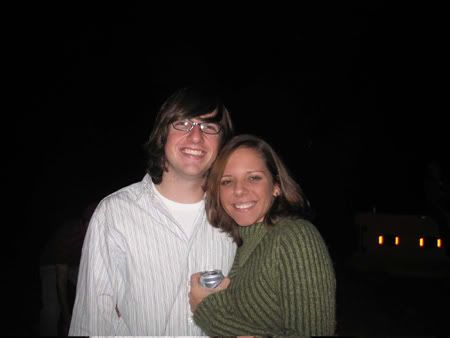 This was taken at a bonfire party a couple of weeks after we started hanging out. Hilarious, no? Yep, pretty sure his hair was longer than mine. Ahhhh, memories. 🙂
Share this post: