Hi everyone!
I know I've been kind of absent blogging-wise and I wish I had a good reason, but the truth is I've been suffering from wedding fatigue.  David and I dated for six months and have been engaged for the next seventeen.  Now that it's getting down to crunch time it feels like all we worry about, spend our money on and even bicker about is wedding-related.  Sometimes I just miss having a boyfriend, you know? (And of course you guys do!)  On top of all that mess, my bff and David's bff are marrying each other next weekend!  We' the maid of honor and best man, so there's been lots and lots to do related to that as well.  Not that I'm down on weddings at all – I think I just hit one of those points where, for my own mental health, I needed to stop, take a deep breath and readjust my worldview a little bit.  It's been remarkable!  So now I'm back and ready to jump in all over again!
To me, stationary products (save the dates, invitations, menus, programs, escort cards, etc.) are one of the most fun and versatile parts of creating your wedding.  I was super excited and spend a lot of time looking online at all the beautiful, creative things you can buy.  And then I looked at the price tags – not so budget-friendly.  I'm a scrapbooker, so I love paper of all kinds and knew that although I couldn't afford my letterpress dreams there are still lovely, lovely options out there.
One of the best resources I found was www.printablepress.com where you basically pay for an image and then print your own!  Some of the early contenders were:
I thought they went well with our outdoor location and natural inspirations.  Still, I wasn't quite sure they were personal enough.  Then, after following a link that leads to a link that leads to a link (as you do) I found this: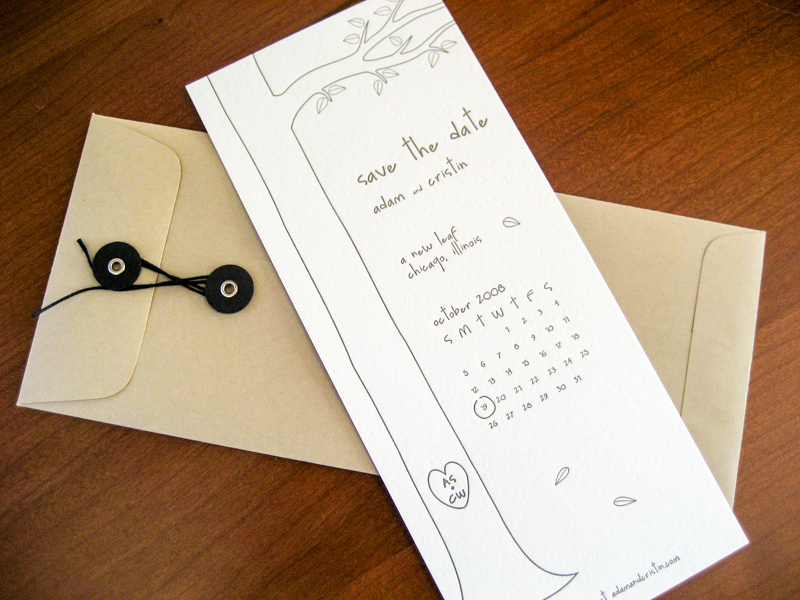 For those of you who aren't Shel Silverstein fans, it's based on the book The Giving Tree.  I thought it would be perfect and when I showed it to David he agreed!  It was perfect – I love books and reading but he really doesn't, but The Giving Tree just happens to be his favorite.  And the best part is – it's free!  That's right!  With a comment or an email Adam that you're going to use it and then it's yours.  I downloaded a free test trial of Adobe Illustrator and went to work.  We made a few changes, including coloring in the leaves and replacing the little circle around the date with a red apple stamp.  We're also planning on modifying it to use for the invitations and (possibly) the programs.  I took them to Kinko's and got them printed on heavy-weight paper for approximately $.20/page, and two could fit on one page.  If I hadn't grossly overestimated the number of envelopes we needed it would have been even cheaper (I think I doubled the number I needed.  What can I say? I was nervous. (: )  I also scored linen envelopes on clearance for $2 and after that all I bought was stamps.  I set up a mail merge on my laptop and ran off the addresses on my puny little desktop printer.  I think the most painful part of the whole process was sealing and stamping those envelopes!
For the invitations I hope to do something a little fancier, but I'm not quite sure what yet.  I'll come back with the answers next week!!
Have any of you suffered from wedding fatigue?  
How did you decide what kind of stationary you wanted?
–
Images from: www.printablepress.com; http://www.merrimentdesign.com/giving-tree-save-the-date-wedding-announcement-for-fall.php
Share this post: