So… it's been a while. I could give you a list of excuses because I actually have been quite busy, but in reality I have had plenty of time to write a little blog here or there and just haven't because:
A: I write blogs at work and writing more when I get home just didn't seem appealing.
B: The Fiancé and I just got Mario Kart and Wii Fit- therefore I have been spending all of my non-working, non-sleeping hours playing video games.
C: I just enjoy being lazy and doing nothing when I get home from work. Such as watching trashy reality television, cuddling with Steve Perry and the Fiancé while eating takeout Chinese. Pretty much my favorite thing to do.
Anyway…
I haven't really had a lot of time to do any wedding PLANNING but I have spent a considerable amount of time doing research and looking for wedding inspiration! I've been making a list of all the things I WANT to have at the wedding, and needless to say, it's getting a little OOC. (Out of control!!!)
Here's my wedding inspiration introductory list:
BLUE SHOES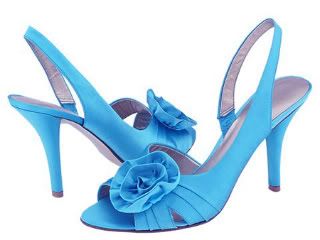 I want to wear blue shoes as my "something blue!" Traditional white shoes are nice but I always love seeing pics with a surprise SNAP of color of a bride wearing brightly colored shoes!
A CANDY BUFFET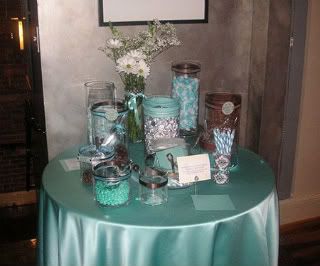 My Fiancé just LOVES him some candy. There's pretty much never a time when there is not candy present in my apartment! I thought this could be a cute touch of his personality to add to the wedding.
A PHOTOBOOTH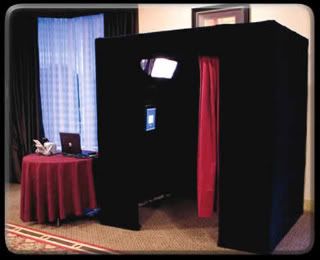 Even if it's a makeshift one with a camera, tripod, and dropcloth- I think this could be something fun for our reception. We have so many wonderful friends and family members and we want to make sure we get pictures of them all being silly!
A PHOTO GUEST BOOK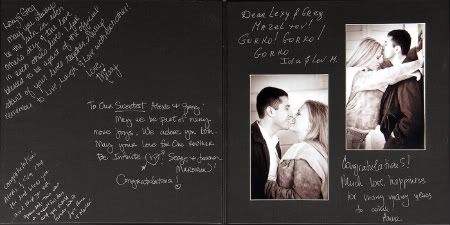 I want to have a photo book guest book (filled with our engagement photos with room for guests to write their messages). I saw this recently and I thought it was just the CUTEST idea. And it could totally be DIY. iPhoto books anyone?
AN AMAZING PHOTOGRAPHER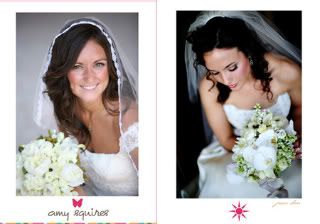 I want an AMAZING photographer. I would blow my whole budget if I could afford someone like Jessica Claire or Amy Squires. I'm going to have to check out some Nashville photogs to see if I can find anyone whose work speaks to me as much as the big name pros I love.
AN OUTDOOR(ish) RECEPTION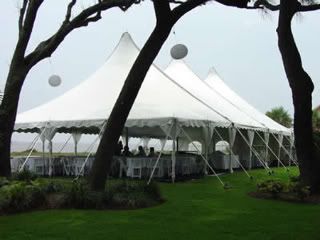 I want to be outside- whether it's for the reception, ceremony, or both. I love being outside and natural light is the best for photos! I like the idea of having a tent for shade at the reception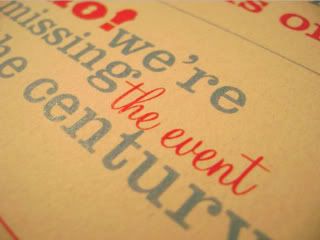 I want to design my own paper products- invites, STDs, programs, signage- you name it. I'm a graphic designer so this is the one thing I can really do all myself!
CUTE, (HOPEFULLY) REWEARABLE BRIDESMAID DRESSES

I want my bridesmaids to wear short/cocktail length dresses (that they really could wear again, hopefully) and colored shoes! (Don't know my colors yet, hopefully that will come later…)
BIRDCAGE VEIL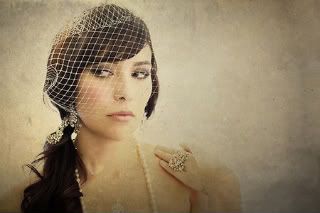 I really like netted "birdcage" veils that just cover a small portion of the face. I can't really see myself wearing a big long veil- just seems a little over-the-top to me. I'm a no-muss, no-fuss kind-of-girl.
A PRETTY PRINCESS DRESS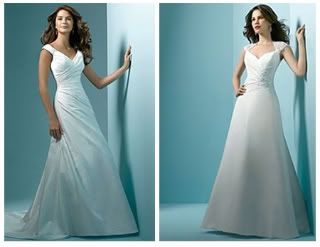 I'm thinking I want my dress to have a sweetheart neckline, but so far I haven't started seriously looking. My problem is, my boobs are kinda on the large side, so I don't want to be screaming CLEAVAGE on my wedding day. Also because of my big "girls," I don't know if I could go strapless b/c I feel like I wouldn't feel comfortable and I'd have to be pulling up my dress all day, so some straps would be nice.
PAPER PARASOLS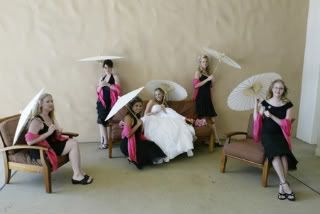 I want paper parasols if we do an outdoor ceremony- it will give guests shade and will make for some cute photos!
And that's my running list, so far. Although, I'm sure more things will come up along the way. Not too much to ask, right? 😉
photos:
Share this post: