Flower Alternatives: Feathers
When you shop via links on our site, we may earn a small commission if you make a purchase.
Learn more.
As you may have already seen in our other flower alternative posts, there are so many different materials you can use to make centerpieces and bouquets. Fresh flowers can be terribly expensive and potentially unpredictable, so using a different kind of decor can be a stress-free way of saving big bucks.
You've likely considered silk or fabric flowers as an alternative to fresh. But what about feathers?
We've put together a nice list of beautiful feather decor and bouquets made by the talented artist over at Etsy. In addition, if you're feeling crafty, consider trying one of the tutorials posted below.
If you have a little DIY skill or just want to buy something that lasts longer than a few days, feathers are a lovely option.
Feather Flower Alternatives
---
If you and/or your fiance are hunters or nature lovers, these pheasant feather rustic boutonnieres from LindenFlowers will add a unique touch to your big day.
---
Don't forget your flower girl! This basket adorned with pearls and feathers from iweddingworld is perfect for your little helper.
---
We love how FeatherANDwireDesign incorporated dyed wheat and sola wood flowers into this feather centerpiece.
---
We are amazed at how HappyFeatherAfter managed to use only feathers to create these lovely blooms. They also offer different sizes and color options, as well as boutonnieres.
---
Are you as blown away by this peacock and silk flower bouquet by Fascinatorandflowers as we are? And how lovely does it look with the model's green dress?
---
These towering white ostrich feathers by exoticfeathersLA are straight out of The Great Gatsby. Stunning doesn't even begin to cover it. And if white isn't your thing, they come in a variety of vibrant shades.
---
Get a load of this gorgeous ostrich fan bouquet with brooch by the artists over at BlueSkyHorizons. They also have many fascinator and headpiece options.
---
We love the idea of using these peacock feather rounds as placemats or centerpiece bases. Ivyndell offers these in different sizes, depending on your needs.
---
Wanting to make your own ostrich feather centerpieces? The geniuses over at Entertaining Diva have put together directions for SEVEN different variations of these lovely showpieces.
---
jewelboxballerina over at Etsy has a tutorial for sale that teaches you to make the loveliest feather flowers. They look so real!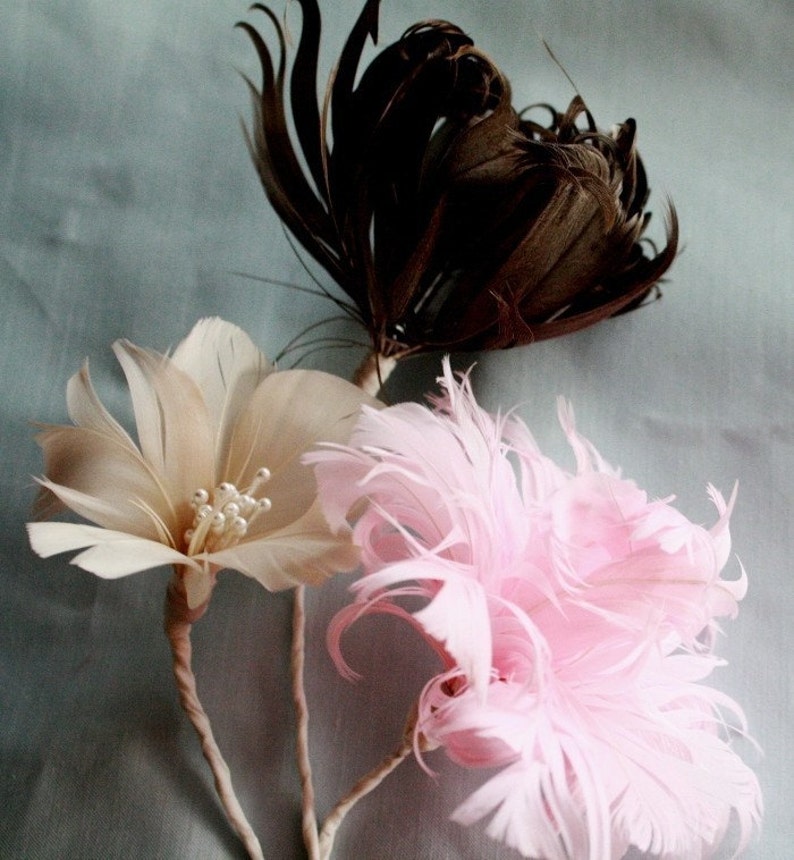 Browse Flower Alternative Ideas:
Want more wedding flower alternative inspiration? Visit the posts below to see other options to consider instead of using fresh flowers for your wedding!