Flower Alternatives: Vintage Brooches
When you shop via links on our site, we may earn a small commission if you make a purchase.
Learn more.
This is one of my favorite alternatives to bridal flowers- the vintage brooch bouquet! This particular category could lend itself to being a time-intensive project- searching for pieces you like and want to include, not to mention possibly spending quite a bit of money trying to find enough pieces to make up your bouquet. And if you want to make them for your bridesmaids, too… now we're talking a LOT of work and maybe a lot of money.
That's why we have included some amazing bouquets available for purchase. So unique and beautiful- something you could treasure as a keepsake for years to come! It would definitely be a lovely decor piece for your home after the big day.
---
This bouquet by BouquetsofWhimsy is filled with large, silver-tone brooches and rhinestones, offset by black silk ribbon flowers and black accent brooches throughout.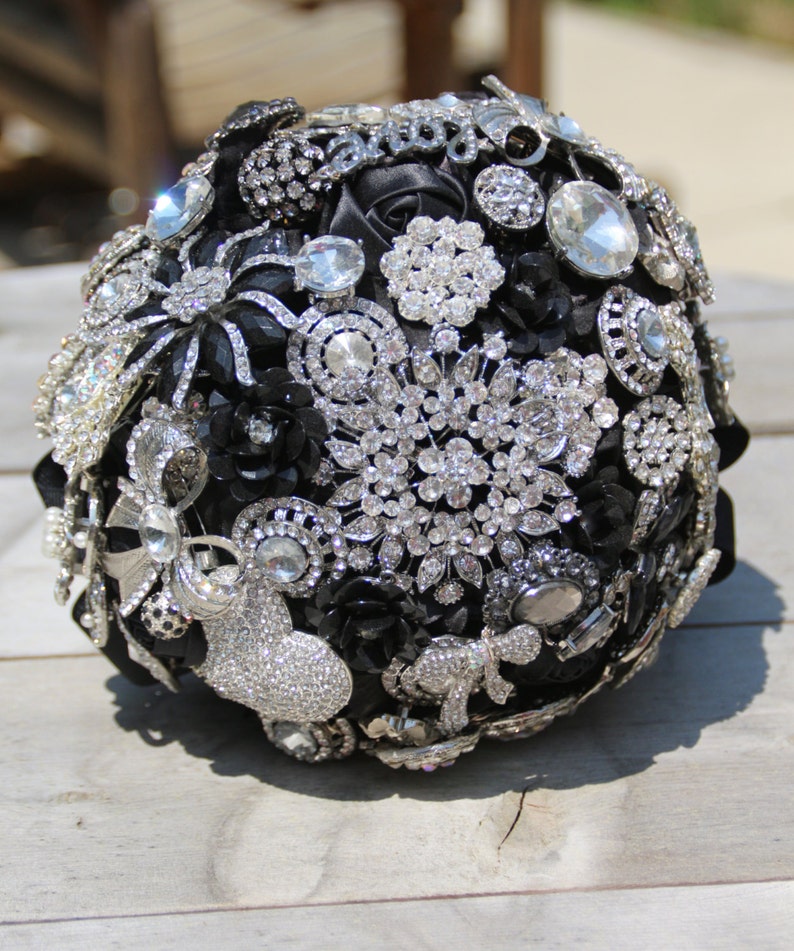 ---
Get a load of this beautiful white satin rose bouquet with silver-tone brooches by PartyPolishAffairs!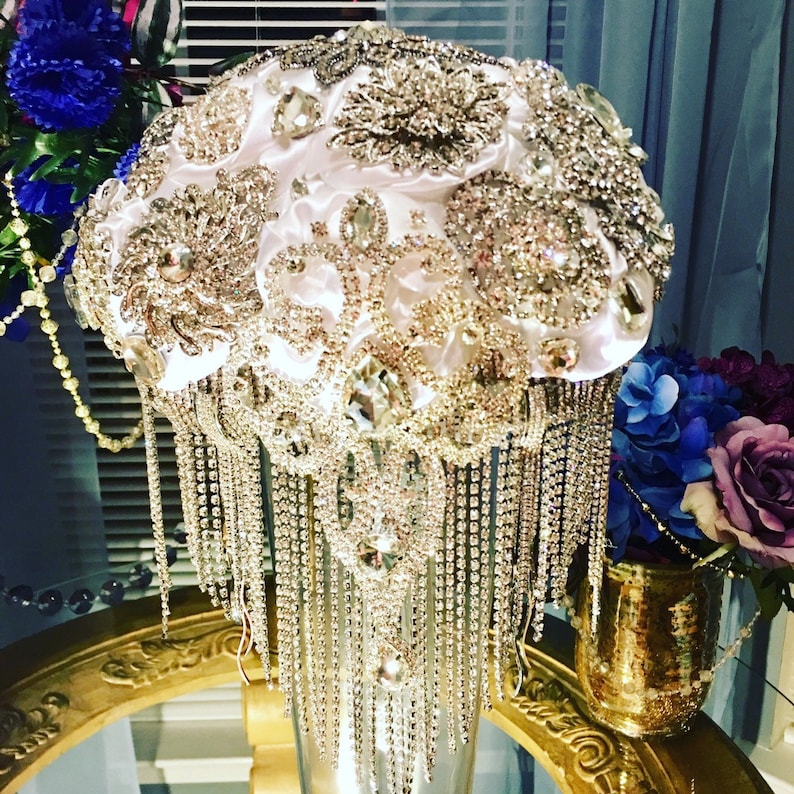 ---
This rose gold brooch bouquet by GlamCoutureAndMore is accented with lovely pearls and satin roses.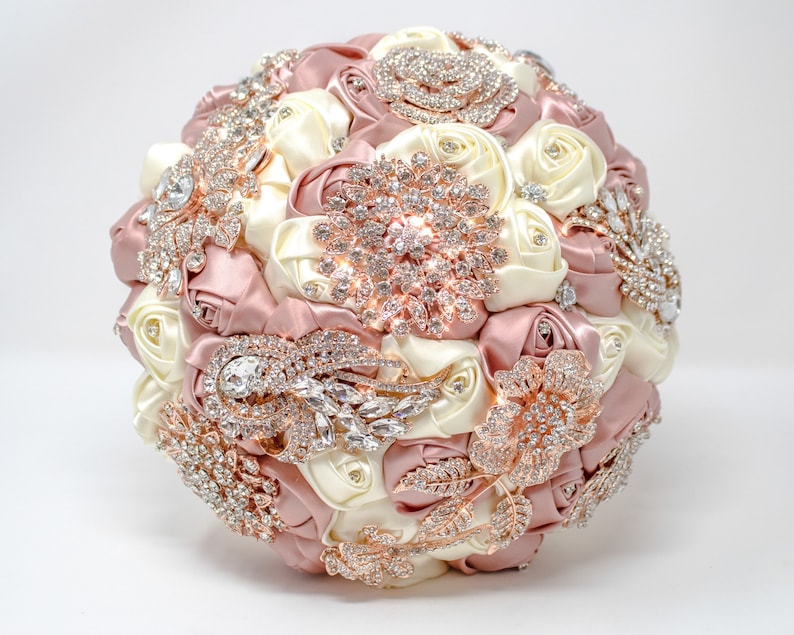 ---
This amazing bouquet by iamshoppingqueen is created using vintage and modern repurposed jewelry including rings, brooches, necklaces, cuff links.
---
This stunning and beautiful bridal bouquet was designed using jewelry from RusticCreek's huge collection of antique and vintage jewels.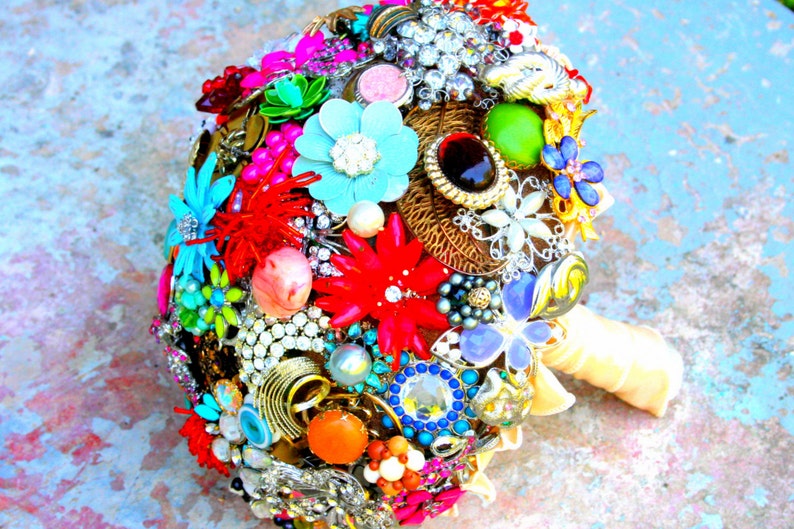 ---
We are in love with this cascading brooch bouquet, which is available in many different flower colors by TatyanaAgulina.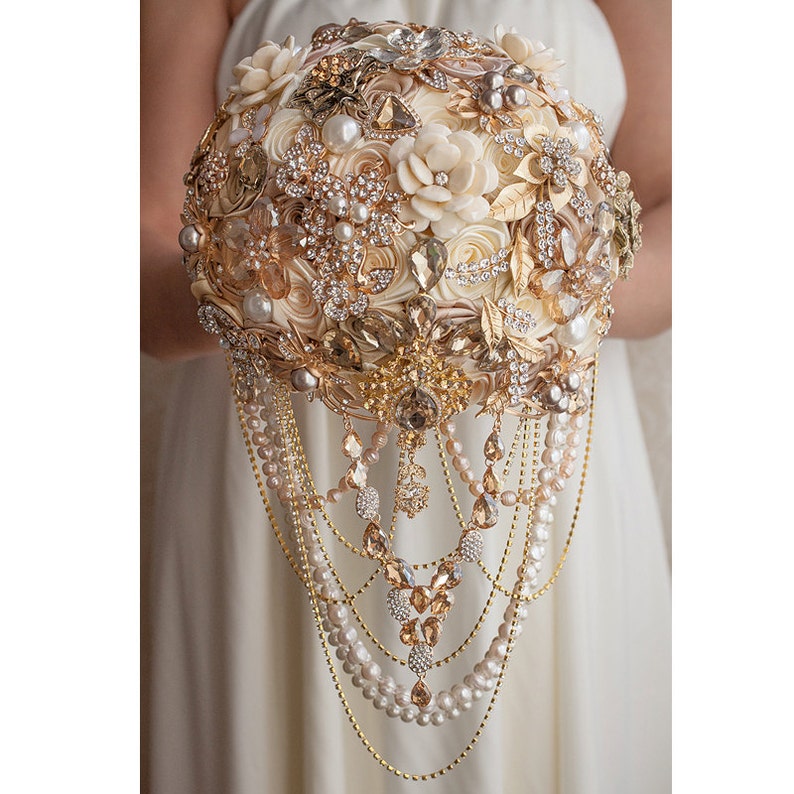 ---
This Alice in Wonderland theme bouquet is handmade using an eclectic mix of vintage brooches, retro and new jewelry findings, handmade flowers, and crystals by MaddisonRocks.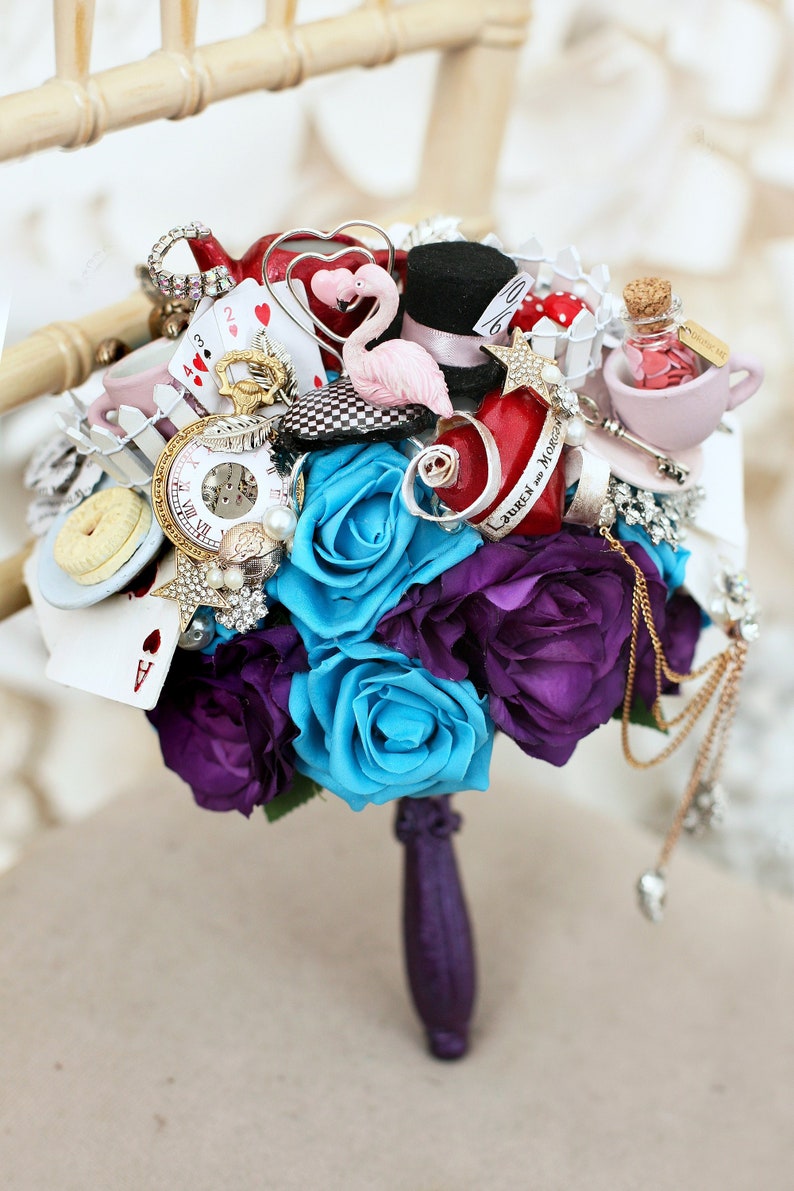 ---
Comprising of hand-rolled satin roses, Swarovski elements, and sparkling crystal swag drapes, CrystalWeddingUK really blew it out of the water with this one.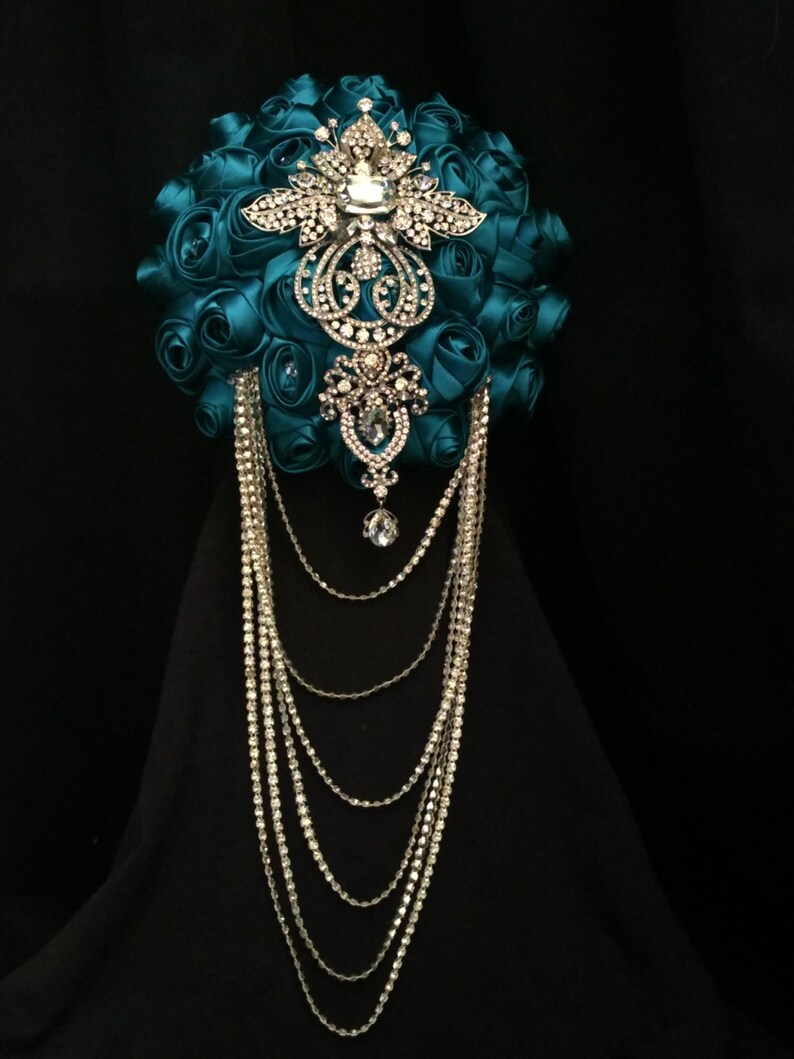 ---
This lovely cascading wedding bouquet is made of handmade burgundy roses and gold brooches by KseniaFloks.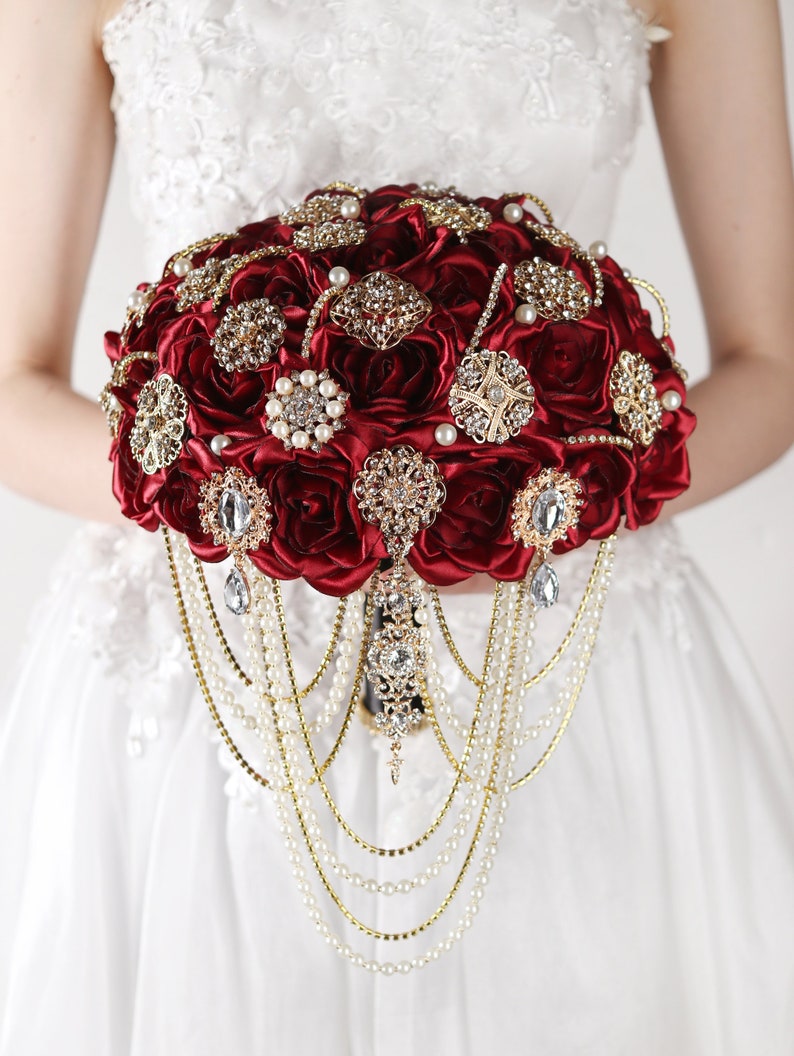 ---
Celebrate "the boy who lived" and your big day at the same time with this ah-MAZ-ing Harry Potter bouquet from MaddisonRocks.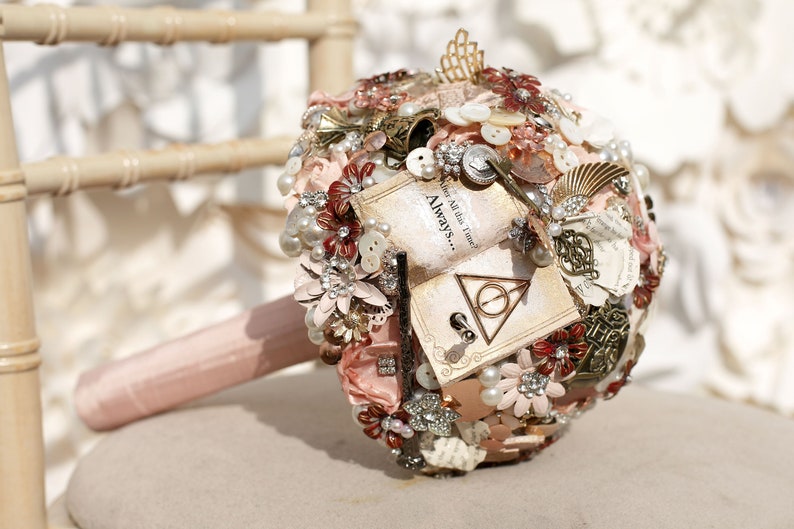 Browse Flower Alternative Ideas:
Want more wedding flower alternative inspiration? Visit the posts below to see other options to consider instead of using fresh flowers for your wedding!