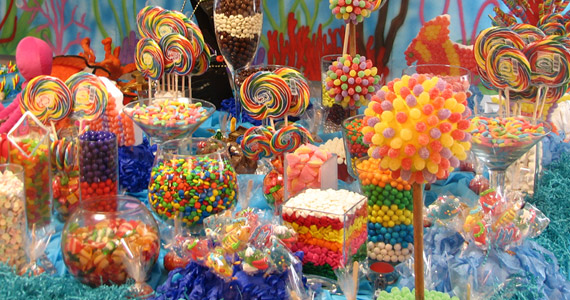 If we had a lot of dollars; we would have a candy buffet similar to the one above, but those lollipops are upwards of $3 each, and that fishbowl of gummy fish is a pretty penny too.
My apologies for not posting as often as I should; we've been busy over here with our wedding less than 2 months away! One of the final aspects that we've been working on is the candy buffet that we opted to have; we got all the jars required for $75 (a lady was selling them from her wedding, and we ended up with more glass jars than we needed + enough to use for our centerpieces and more). We were told by "experts" to anticipate 6-8 oz. of candy per guest. Pay for 50 pounds of candy; that could easily be $500, if we were opting for the good stuff. So I started to think about how to make this a more affordable venture.  I want to share my tips for a cheaper candy buffet with all you other budget savvy brides!
Ways to Cut Costs for your Candy Buffet

1. For your sweets, don't limit yourself to candy

One thing that I love to snack on is breakfast cereal
, and the thing is, some of them look pretty nice when put in clear glass! Another great sweet option is marshmallows — it's amazing how many different marshmallow choices there are, and marshmallows are puffy and pretty attractive.
We want our candy buffet to be colorful, so we're having 1 container of Fruit Loops
 and 1 container of mini flavored marshmallows
. Other potential choices are animal crackers
, Oreos
, and other cookies. 

2. Add items you'd find in the snack food aisle

Consider adding potato chips and pretzels to your candy buffet — everyone loves a little salt with their sweets! There are so many chocolate-covered savory snacks these days, I think folks would appreciate having some of those options in a candy buffet. You can fill 1 jar with potato chips and 1 jar with pretzels, and it'll make your candy buffet look fuller for very little cost.

3. Take into account volume when buying candy
M&Ms are dense and take up very little space, so you wouldn't want to fill a large container with them. But Twizzlers
, Gumballs
and Pixie Stix
take up a lot more space. Fill your larger containers with larger items so you don't break the bank. Use the smaller containers for denser or more expensive candies; we're using our smallest containers for Hershey's Kisses
, Runts
, and Skittles
.
Top Sources for Wedding Candy:
Share this post: