Your Budget & Guest Count Can Dictate Wedding Plans
When you shop via links on our site, we may earn a small commission if you make a purchase.
Learn more.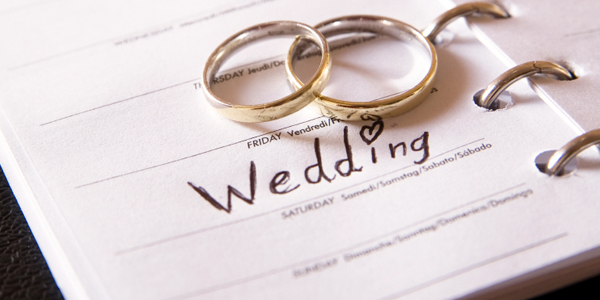 Wedding planner, image source: http://www.sheknows.com
Way before Matt and I were engaged, we both agreed that we'd have an intimate wedding: one that was warm and full of love, where our nearest and dearest would together in a relaxed setting to celebrate our happy day with us.  But would we, as bride- and groom-to-be, translate this sentiment into one cohesive celebration, all while staying within a budget? How could we balance the day that we envisioned with the reality that we can afford? We were lost, y'all. Little did I realize how the budget and guest count can dictate your wedding plans.
So, first things first. We settled on a budget of $8K, with a target of $6-7K. $8K represents about 10% of our gross income, and is the maximum that we felt comfortable spending.  Next, we wrote down all of sentiments we wanted our wedding day to convey. We felt that having these keywords would help us determine the style of our wedding and guide the projects that we would undertake.  After some debating, we narrowed the list down to seven  words: outdoor, relaxed, vintage, local, home-made, family, and celebration.
Second step, the guest list. Our estimated guest count is 65 people—the perfect number for us, and an accurate reflection of our tight tight-knit community of friends and family. A side note: If your goal is budget-savviness, I would suggest making the guest list one of your very first decisions. Having an established head count ready for vendors when we made the initial contact saved us so much time and aggravation, as most (in this area, anyway), are not willing to provide pricing estimates without that information. Having almost immediate access to pricing helped us to avoid setting our sights on options that were far outside of our price range.
With the budget settled, the guests on the list, and our keywords to guide us, it was time to pick a venue. Now, small weddings are special, right? Right. Unfortunately, large weddings = larger revenues for vendors, and so we ran into one of two issues: 1) many vendors in our area have a minimum headcount policy, which basically means that we'd be responsible to provide or pay for at least 100 guests; 2) the venues that could accommodate a smaller celebrations had an average capacity of 40-50 guests.
Since we weren't willing to pay for more guests than would actually attend, we were able to cross many of the "traditional" venues off of our list. That left us with local restaurants and function halls, and researching the remaining options was exhausting and discouraging. Although the restaurants we looked into were lovely, we would have had to work around their existing décor, capacity/parking limitations, and scheduling restrictions.  Function halls were a very affordable option, but set-up/clean-up was not included, and the fines for putting up decorations were pretty hefty. I don't know about y'all, but this girl's got to craft, and not having decorations was not an option for me! 🙂
In the moment, it seemed that we couldn't afford what we wanted, and we didn't want what we could afford—not a good head space to occupy, trust me! In February, Matt and I met with a local restaurant. While the owners were sweet (and the food was fabulous), they seemed a little nervous to be serving so many people at once. They also had a ton of restrictions: wedding ceremonies were only held on a Sunday evening. The headcount could not exceed sixty people. Dinner could not start any later than 5pm. Notice that I typed dinner, and not reception. The place was so tiny that there was no room for dancing, so that plan was nixed.  Displaying a wedding cake would have meant taking up another guest table, so that came off the list as well. Nevertheless, we barreled ahead, and set a date and time: April 6th, 2014.
And then, I waited for the cloud to lift. To feel a little happier, more settled, less nervous…after all, we had a wedding date AND three major decisions checked off the list! But the relief never came. Instead, I felt guilty. What had happened to the aspirations we'd written on that little piece of paper? Why did the wedding we were planning seem so far from the wedding we'd envisioned?  I was frustrated. Matt was frustrated. We were committed to the plan, but it just wasn't any fun.I started to fantasize about eloping, because, if we couldn't be 100% happy, the least we could do was not inconvenience our guests. So dramatic, right?  A little voice kept whispering to me: "Clear the decks. Just clear the decks." Well, what the heck did that mean? And if I was hearing voices this early in the planning stages, we definitely had a problem!
One afternoon, I was driving by a local park, and I turned in to take a walk and clear my head. I left my car at the beach and made my way up a rocky staircase. At the top was a large, circular building, and to my right, a wide wooden bridge. The little voice whispered again: "Clear the decks."
I flew home and burst through the back gate.
"We've got to clear the decks!"
"What are you talking about?" (Matt, covered in paint and not very amused)
"What if we just started over? Called the restaurant, canceled the reservation, and started from scratch?"
"How are we going to do that?" (Matt, same as above)
Long story short, I convinced him to go back to the park with me. And just like that, everything shifted. Matt saw the building, and his face lit up. We walked the perimeter, marveling at the stained-glass transom windows, the vintage details, the floor space. We laughed. We (I) shouted "This is perfect!".  We envisioned our ceremony at the foot of the bridge. We decided then and there that this was the place for us. The date we'd picked? Out the window. The restaurant we'd rented? Consider the reservation canceled.
The Carousel House at Goddard Park-our reception site!
Image source: http://www.riparks.com/Locations/LocationGoddard.html
We called the park's rental office, which kindly informed us of the particulars: the rental fee was $250/day, with set-up and breakdown of the chairs, tables, and ceremony location included. We could decorate to our hearts' content. Our guests could throw confetti. We'd have free run of the park for pictures and such. The building included on-site restrooms.Umm…where do we sign?  🙂 We submitted our rental application, and in a few days, received the best wedding gift yet: confirmation of our new wedding date, set for May 31st, 2014. For the first time since our engagement, we were excited about our wedding.
And that, folks, is a wonderful feeling.
Have you ever faced a similar planning challenge? How did you overcome it?