So I was talking to E's sister recently and she mentioned an idea that I thought was really great and definitely a good way to save some cash- a brunch wedding/reception! Can't you just imagine it? A lovely day in May, a tent outside with delicious food- a custom omelet bar, waffle bar, pastries etc! It wouldn't be too expensive- eggs are cheap, y'all! Have a gander at my brunch wedding inspiration.

We could save money on the liquor bill by only serving Mimosas and Bloody Mary's, (instead of a full range of liquors.) And because the party would take place during the day, many venues offer discounted prices for daytime rental. Spring is perfect season for pretty wildflowers like daffodils (one of my faves) and daisies and such- and these flowers are reasonably priced.
Also I love natural light for photos so I'm a big fan of a daytime wedding. I've been slowly falling in love with this idea over the past few weeks… I'm excited about the possibilities. But I wonder what the downfalls are of this idea- people might not be as likely to drink and have a good time, will people dance early in the day? I wonder about it a little.
Anyone have any opinions on a brunch wedding? Also, how late is too late for brunch? And, woe is me, I wouldn't get to do a pretty sparkler exit. But let me know what you guys think! In the meantime, I made an inspiration board of how this idea has appeared in my head. Hope you like! 🙂
.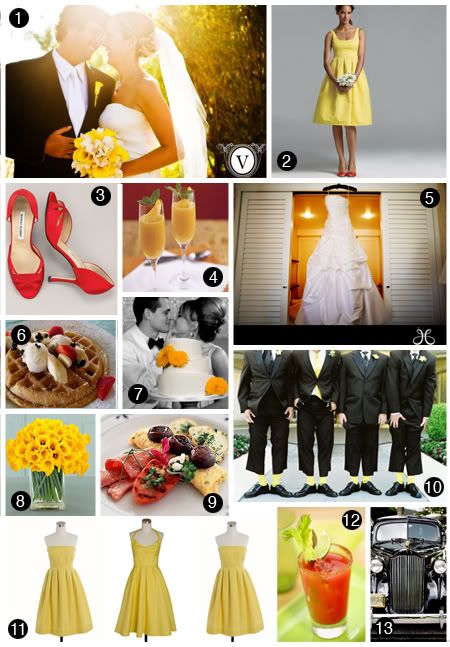 1. Valentine Photography   2. J Crew   3. Manolo Blahnik   4. stock   5. Jessica Claire   6. stock   7. Project Wedding   8. stock   9. stock   10. Jonathan Canlas   11. J Crew   12. stock   13. Michael Howard Photography
Share this post: