17 Fall Wedding Favors under $1!
When you shop via links on our site, we may earn a small commission if you make a purchase.
Learn more.
If there's one thing we love around here, it's saving you money. And while it is true that skipping favors completely can save your budget tremendously, many couples still want to give their guests a token of appreciation. That's why we thought it would be fabulous to round up some affordable and adorable wedding favor ideas for you! And to make it even better, we decided to make this post all about this fabulous season that is nearly upon us… fall! Fabulous fall favors… get excited!
17 Fall Wedding Favors Under $1.00
Fall weddings are stunning. The autumn colors, flavors like pumpkin, maple, and spice and even the accents like colored oak and maple leaves as well as crisp pine scenting the air. One of the best things people don't realize about fall weddings is that you can also save a ton by knowing where to find fall wedding favors for under $1.00.
Here are 17 options and how you can get them by shopping with our partner, Beau-coup!
17. Rustic Wooden Heart Boxes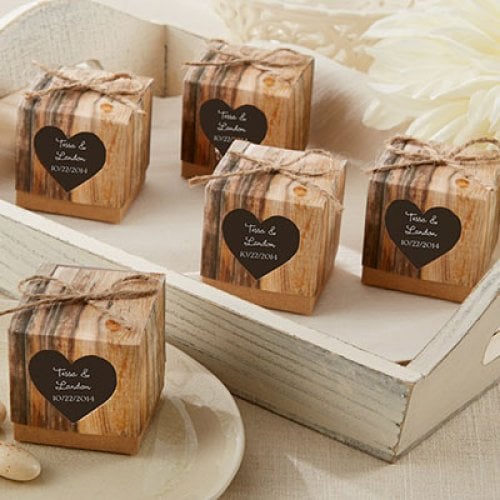 Personalized Rustic Heart Favor Boxes
These fabulous favor boxes are under $1.00 and scream fall weddings. You can place mints inside, personalized kisses, fun branded candies or whatever you'd like. These make great fall options to keep you on or under budget.
16. "Fallin" in love Hershey's Miniatures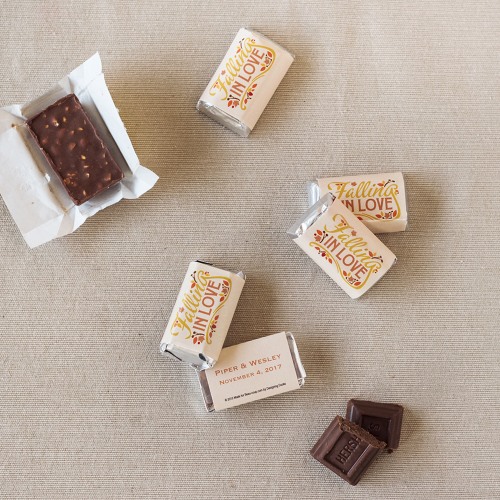 Personalized Wedding Hershey's Miniatures
Your guests will love these classic tasty treats. They're customized for your wedding with a fun pun on the wrapper and will help give that "sweet" sugary boost to your guests to get them on the dancefloor.
15. Falling In Love Tea Bags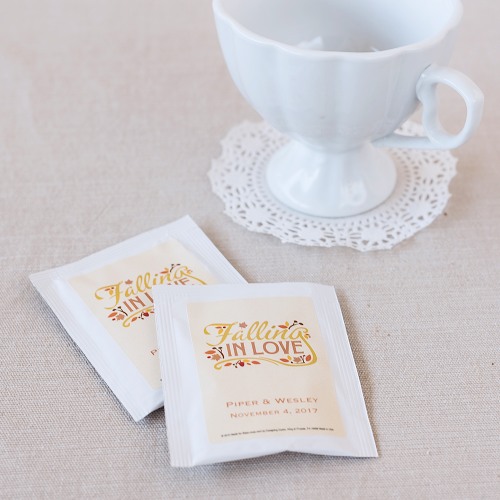 Personalized Wedding Tea Bag Favors
With the brisk air and chilly evenings, sometimes a cup of tea is the perfect cure to wind down from a wedding. These tea bags will remind your guests of your big day while they enjoy a warm and refreshing cup of tea.
14. Custom Printed Reese's Peanut Butter Cups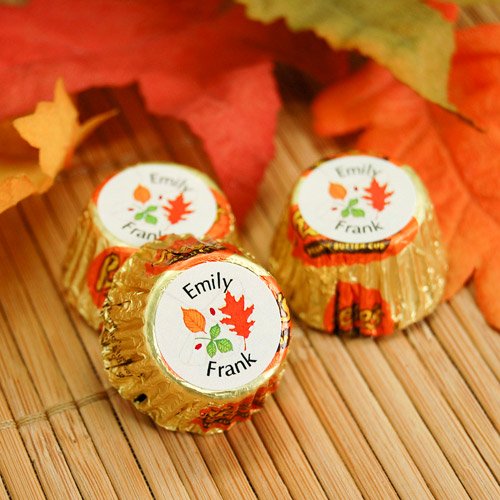 Personalized Wedding Reese's Peanut Butter Cups
Who doesn't love a Reese's cup? These fun fall themes have the couples' name and a festive print in between.
13. Personalized Plastic Cups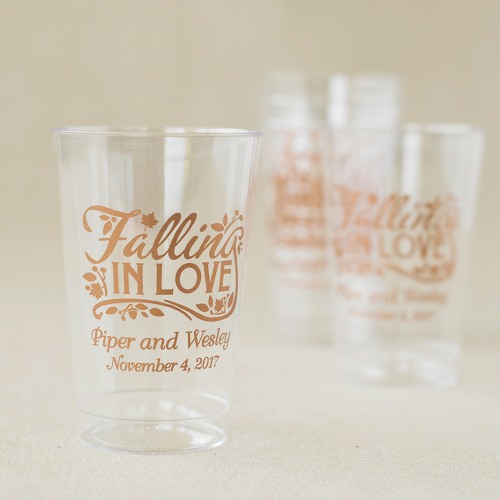 Personalized Clear Plastic Cups
From a backyard wedding to a banquet hall, these adorable autumn plastic cups will help to set the mood and you may have some to take home after the event. The best part, they have the same phrasing and theme with "falling" in love as some of the others so you can create a matching set of favors at an amazing price!
For these next ideas, Beau-coup almost always has a deal for 20% and higher on their homepage. The deals change almost daily so if you don't see a 20 to 25% off one today, you can try again tomorrow. These will help get you close to or below the $1.00 mark.
12. Personalized Cork Coasters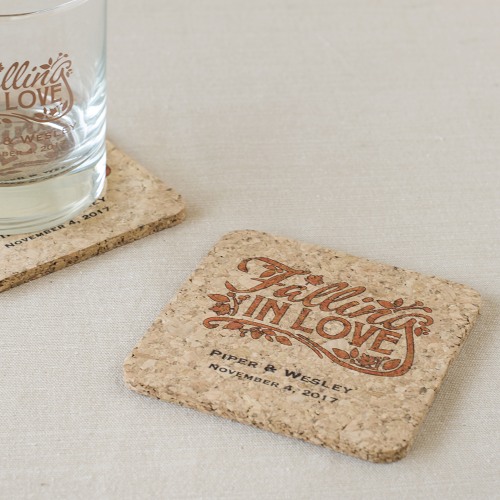 Personalized Party Cork Coasters
These cork coasters can be personalized to match your unique style. Perfect for autumn they'll provide a perfect present for all of your guests.
11. Leaf Topped Wedding Bell Place card Holders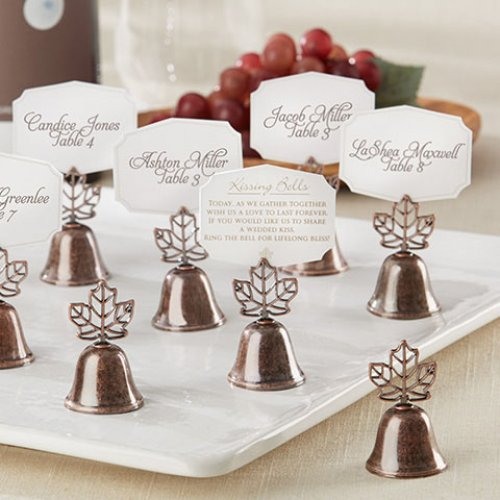 Bell Place Card Holders
You get your choice between a heart or autumn leaf topped wedding bell that is also a place card holder. These bells are fun for everyone and the leaf shaped topper is super fun!
10. Autumn Leaf Glass Coasters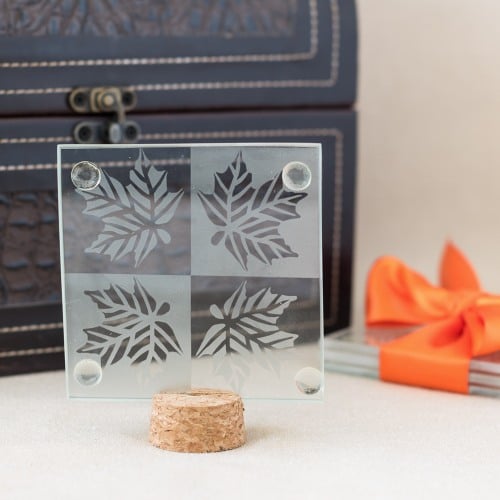 Autumn Leaf Glass Coasters Favor
If cork and wine isn't your thing, these autumn lead printed glass coasters make a perfect option for your big day. Guests will love them and nobody has to know that they were close to or under $1.00 (when you use the coupon trick we mentioned above).
9. Votive Candle Holders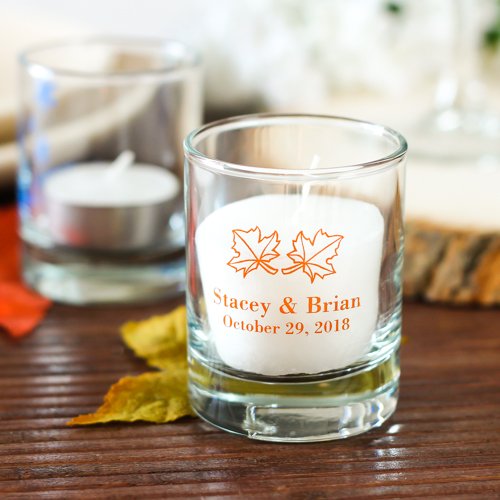 Personalized Wedding Votive Candle Holders
Depending on your guests, these votive candle holders can also double as a shot glass. "Leaf" it up to them to decide which type of favor it actually is.
8. Vine Napkin Rings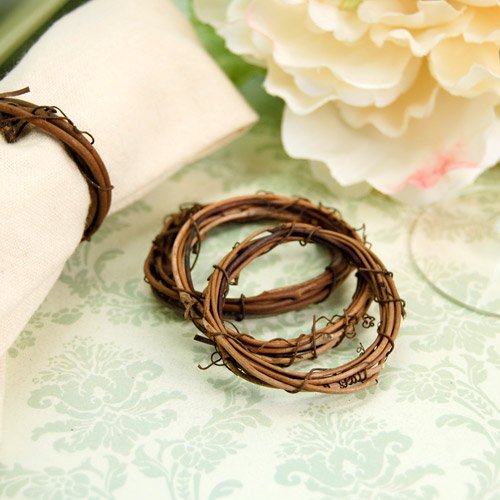 Vine Napkin Rings
Want something unique and fun? These vine napkin rings are classy, elegant and with the discount, right under the $1.00 mark (at least as of today).
7. Leaf Shaped Bottle Openers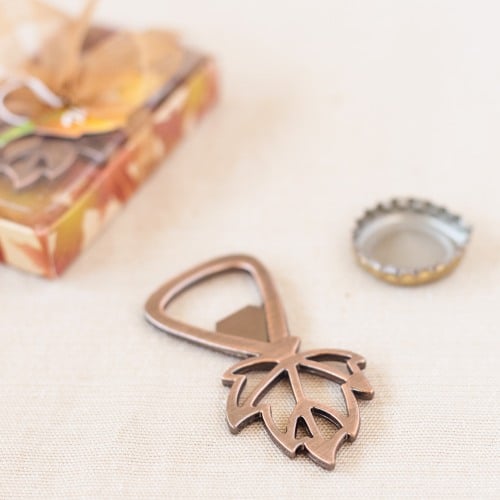 Fall Leaf Bottle Opener
These are going to be just over the $1.00 mark with the discount code, but they are certainly worth the little bit extra. Once you see how fun they look and knowing that you and your guests can use them year round, you may want to spend the extra few cents.
6. Personalized Candy Jars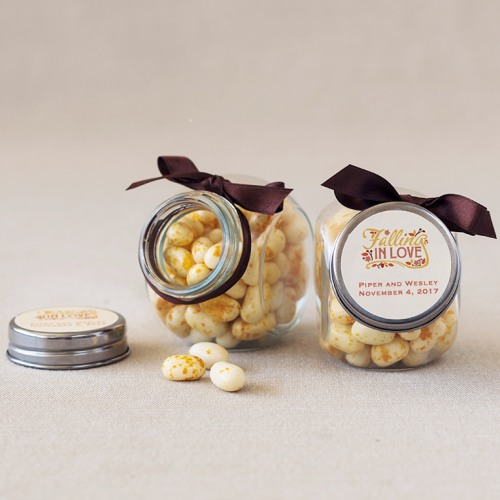 Personalized Wedding Themed Candy Jars
Fill these fun fall favors with anything from autumn colored candies in red, brown and yellow to treats that match your wedding colors.
5. Personalized Life Savers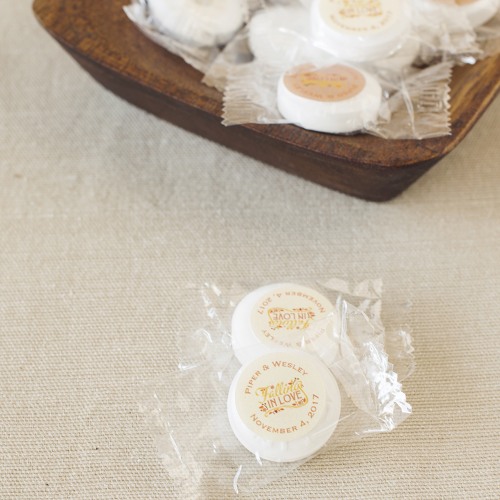 Personalized Wedding Life Saver Candies
These classic candies won't only help to freshen your guests' breath like the crisp, cool air outside, but they may help the singles to mingle while enjoying your reception.
4. Personalized Kisses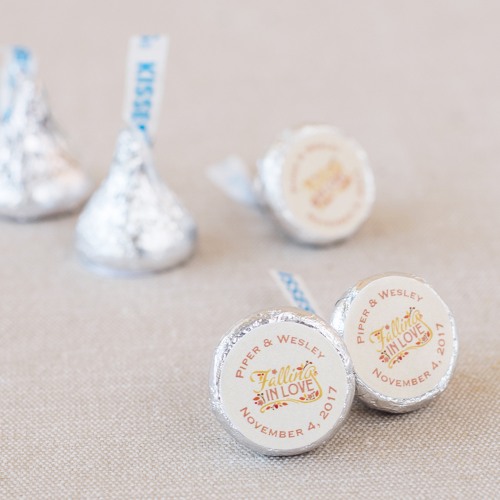 Personalized Wedding Hershey's Kisses
When the officiant says it's time to kiss your new husband or wife, why leave the guests out? No, they shouldn't kiss the couple, they can enjoy a personalized Hershey's Kiss candy. What did you think we meant?
3. Matchboxes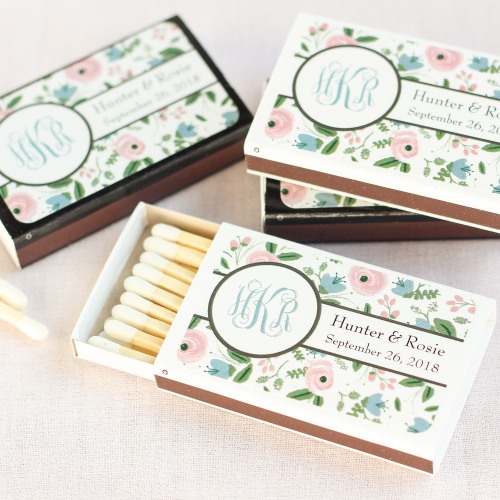 Personalized Themed Wedding Matchboxes
Why would matchboxes make our list? Many fall weddings happen at B&Bs, cabins or vineyards. In your guests rooms may be a working fireplace. We're also moving into a chilly air season making matchboxes for fires a necessity. As your guests light a grill to tailgate a game or strike up a fire to warm their night after your wedding, they'll remember how much fun they had with this customized gift.
2. Personalized Glass Coasters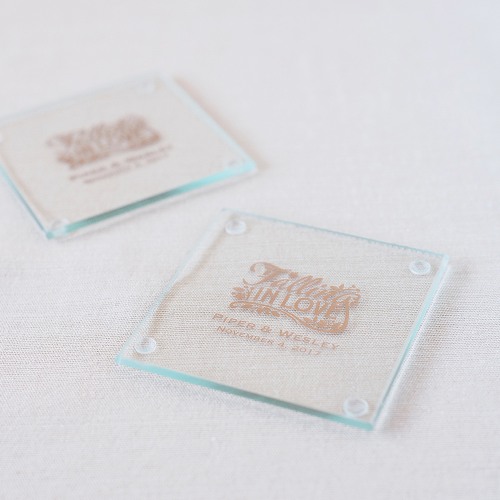 Personalized Glass Coasters
If the autumn leaves above aren't your thing, you can customize these glass coasters any way you'd like.
1. Pinecone Place Card and Photo Holders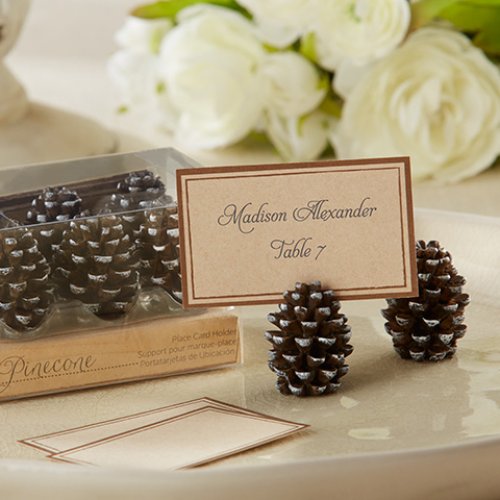 Pinecone Place Card/ Photo Holders
These are going to be right over the $1.00 mark, but if you want something for your guests to be able to use after the wedding, they can place their favorite photos from the event, a party or anything else and always have a memory of your big day on display.
There are a ton of options for fun fall wedding favors under $1.00. Click any of the images or links above to visit Beau-Coup where you'll discover hundreds more ideas. If you don't mind going a bit over the $1 mark, you open your options up to maple syrup, mason jars and other fabulous and fun ideas to delight your guests!
Hope these fabulous fall favors have inspired you!